Coastal Life, Volume 5 Issue 9, 2009, by Nicole Bouchard, Exclusive to Coastal Life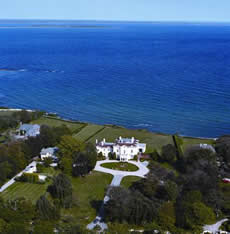 With their captivating water views, temperate seasons and proximity to Boston and New York, the areas of Newport, Narragansett, Jamestown and Watch Hill have been coveted vacation spots since the mid-1800's.
The Gilded Age settled comfortably in Rhode Island as the well-traveled elite sought opulent summer homes along the water, away from their demanding high profile city lives. Bringing with them the styles and trappings of Europe, the prominent families sought to create their own petit-Versaillle in the midst of a quiet waterfront oasis. With great emphasis on skilled preservation, these whimsical, palace-like structures remain as the areas grow and change, incorporating modern architecture, imaginative fine cuisine, artistic shops and elite galleries, all with reverence to both the past and the future.
In the playroom of their Narragansett home in 1964, Lila Delman founded what would become a family legacy and a Rhode Island trademark of luxuriant real estate. Lila's affinity for upscale properties, beautiful art and antiques with stories behind them combined with her business zeal to found a firm that educated itself about the e historical architectural treasures that Rhode Island had to offer. When asked how her mother came by these interests and talents, her daughter Melanie, who is now the President of the firm, explained that it all came purely as though by instinct. "She harbored a natural curiosity towards those areas of interest. She was naturally artistic, naturally inclined toward historic homes and she had a very special, unique eye for beauty with a sincere appreciation of it." The firm has grown substantially to include four offices and takes part in helping international clients transition here or local clients move abroad.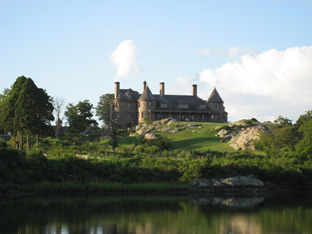 In understanding the draw of the Rhode Island coastline and following the trends from the Gilded Age to the current market, there are the classic elements to consider as well as the regional growth and development in more recent years. For the genteel society of the late 1800's and early 1900's America's "royalty," this region had a quiet charm, a sense of being away without truly being away so that husbands could stay on top of business in Boston and New York, varied social character, prestige, and offered more for their money. The Beaux-arts architecture brought to the region in the nineteenth century defined a nation. Italinate, Neo-Renaissance and French Baroque styles lent an artistry to the landscape which had yet to be seen before this period. Lavish details with little expense spared adorned the magnificent structures embodying the feelings of the time. When asked which of the historic properties she has represented was her favorite, Ms. Delman responded, "I have seen some truly magnificent properties over the years. Just as with your own children, you can't really pick a favorite when considering these homes. Each has a unique personality."
It is very true that each historic residence possess an individual charm; they each have a unique quality that features and discerns them like characters in a novel. Though many famous architects worked to design the various masterpieces that immortalize the history surrounding them, Richard Morris Hunt stands out amongst them. The Beaux-arts architecture was brought to the region by Hunt, the first American student of the Ecole des Beaux-arts. While mentoring in France, he was allowed to supervise work on the Louvre Museum which was being renovated for Napoleon III at that time, as well as design the Pavilion de la Bibliotheque located in proximity to the Palais-Royal. Once in Newport his vibrant personality and humor drew him many elite friendships. One myth surrounding his career stated that as he was finishing a Vanderbilt mansion, he found a tall, covered figure in a ballroom. Pulling away the material, he saw that it was a handsome statue of himself, made by the stonecutters working on the property to honor him. Ralph Waldo Emerson delighted in Hunt's unpretentious, engaging manner which was paired with an extremely intelligent, artistic mind. Hunt's work extended not only throughout Newport, (Marble House, Wrentham House, Beechwood, Ochre Court, Belcourt Castle, The Breakers) but also to North Carolina in the form of the Biltmore Estate, the biggest private mansion in the country, and to New York (the base of The Statue of Liberty and The Metropolitan Museum of Art.) In his obituary which appeared in The New York Times, August 1st, 1895, he was hailed for having rendered the most influence on domestic design, having been as excellent mentor to his pupils in America and abroad, having been unselfish as an individual and certainly one of the most prodigious, successful mine of his profession. His style was thought to be "elegant" and "free" which is a fair indication of the creativity he used in his designs.
On the famous Bellevue Avenue, rests an ideal example, Beechwood was originally built for a merchant named Daniel Parrish. The house was later purchased by the Astor's who hired Hunt to revitalize the property which they bought in 1881. The two million spent on the revival of the home culminated in memorable elegance as displayed in the nautical ball room,. It was made to have the glittering affect of light on the water with its eight hundred panes of glass, mirrored walls, crystal chandeliers and the flowing patterned waves of French flooring. Caroline Astor was proclaimed to be the "Queen of American Society." Her summer balls were the social event of the season . She retired from public life in 1906 with a whirling collection o twenty-five summer seasons filled with lively memories behind her,. It was her son, John Jacob Astor IV, who rode aboard the luxurious, yet ill-fated ocean liner Titantic. The property continues to inspire with a rich history, having inspired musicians and Hollywood directors alike.
Another of the historic gems is The Wrentham House. Also an artistic tribute to Hunt with his unique aesthetic sense and craftsmanship, this home was built in 1891 for J. R. Busk who, along with his swift boat, Mischief, defended America's Cup with his skills as world-class sailor. At the highest point on Ocean Avenue, it features water views from every room. With turrets, a prominent cathedral ceiling, arches and exposed woodwork, this property has impressions of Northern France, particularly the lines found in the architecture of Normandy. Here, the impressive modern amenities begin the transition from the past to the present. A multi-level home theater and central air entice another page of time to be filled with new experiences.
The modern landscape intricately intertwines both historical and contemporary architecture. Therein lies a diversity that also plays a factor in attracting buyers to Southern New England. Discussing this unique diversity, Ms. Delman states: "In many of the older homes, the artwork and furniture are not the original pieces. Each owner of the home has different personality, style and decor. The exteriors are preserved, however, so that they have a charming authenticity to them. These homes are timeless. In terms of the emergence of the modern architecture, I think it gives an individual so much to choose from amongst these complimentary designs of new and old along the coastline. There are no cookie cutter layouts and people can mix styles, choosing various stimuli. Historic home might display modern art while modern homes might showcase antiques."
As the area is again drawing the elite, offering fine schools, art communities, culinary pearls, and the beauty of sea-side locale without over-abundant traffic, more and more prominent names are settling into the Rhode Island coastal region, seeing it as an endearing option. Property values still allow buyers to get more for their money as opposed to property values in the Hampton's. Easy access to the major cities and the smooth breezes off the water are causing many to not only view the region as a summering spot, but also a promising opportunity for a year-round residence.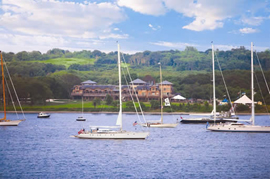 In the instance of Hollywood actress, Anne Archer, (featured in major motion films such as Fatal Attraction, Patriot Games and Clear and Present Danger) she and husband Terry Jastrow, an executive producer of six Olympic games, chose a new townhouse located in Carnegie Abbey Club in 2003. The Carnegie Abbey Club is one of the finest golf and sporting clubs in the country. In the Clubhouse is the couple's 1,592 sq. foot townhouse whose design is meant to capture both west facing views of Narragansett Bay and the two east facing views of the extensive golf course. The interior suggests the theme of the a super-luxury yacht. As a result of frequent famous visitor/residents, individuals choosing primary residences, year-round entrepreneurs 'setting up shop,.' cultural and recreational amenities, the atmosphere of the region doesn't change seasonally to the extent that some summer locations do. There remains a sophisticated continuity. Additionally, education plays an important factor. Salve Regina University in Newport, RI not only has impressive collegiate programs, but features speakers such as His Holiness the Dalai Lama, who hold vastly important world roles. Portsmouth Abbey, in near proximity to Narragansett Bay, is a prestigious learning facility which has a day school and serves also as a boarding school. St. George's school in Newport has been five star rated by parents of attending students.
In terms of culinary delights, Newport has many, yet Ocean Cliff Resort, which was designed by the Boston firm Peabody & Sterns who also designed the original Breakers Mansion and Doris Duke's Rough Point has entrancing Safari Restaurant and Lounge. Fine cuisine, breath-taking views and excellent live music on Sundays with dancing make this restaurant an unforgettable experience. For Jamestown, the Victorian Bay Voyage Inn has stained glass windows looking out onto the bay and the gourmet fare features international dishes. One of the things that is most coveted by those who frequent Bay Voyage Inn is the famous Sunday brunch. In Narragansett, the Coast Guard House, which is listed on the national register of historic landmarks, serves up history, exemplary cuisine, oceanfront views and entertainment.
Art galleries and museums are prominent along the Rhode Island coastline and the expansion of the performing arts adds to the eclectic atmosphere. The Opera house, the jazz, folk and classical music festivals join visual beauty in the picturesque waterfront settings with engaging sound and often powerful words sewn into lyrics. Words as an art form have many roots along the Rhode Island coast through inspired musicians and providing backdrops for written works translated to film such as the adaptation of F. Scott Fitzgerald's The Great Gatsby which was partially filmed at Rosecliff and Marble House. It would be fitting then that the nineteenth century architects who worked to shape the face of the area aspired to not only elements of the Renaissance styles, but also the expression of humanism which was to speak well and write well.
A modern extension of thatt15th century principle made local is perhaps evident in what is referred to on the Lila Delman Real Estate website as Lila's Blog, containing intriguing entries about synchronicity such as "Lost and Found", "Only in RI", the entry with Emily Dickenson's poetry as nearly an ode to one of the estates, and the thought-provoking entries posted by Liz Marchi which evoke the most serendipitous feel concerning Hunt and Wrentham House. With her artistic passions, its very conceivable that Lila would enjoy her aptly named blog. Aside from their associations with Christie's and prestigious brokerage firms internationally, it is interesting to find that the firm features the creative aspects of their agents which is in keeping with many of the inspiring properties they represent. Asked what she loves most about her profession, Ms. Delman replied, "I get tremendous satisfaction from what I do because this is where I live-I'm not promoting something I don't believe in and when we serve in an advisory or consulting role, we are comfortable in our skin, pointing out attributes that we experience on a day-to-day basis."
New England, as a whole, features numerous incredible waterfront communities and short travel distance to nearly everything one could desire. It has inspired many generations past and will continue to inspire the future. Carving out a distinguished spot for itself is the coastline of Rhode Island which highlights a space in time and continues to grow with the Gilded Age mindset framed in the pursuit of excellence.