Princeton, NJ, May 11, 2009 – Susan "Suzy" DiMeglio of Gloria Nilson GMAC Real Estate in Princeton has received the NJAR® Circle of Excellence Bronze award for 2008, ranking her among the top real estate professionals in the State. DiMeglio was also the recipient of this prestigious award in 2003 (Silver), 2004 (Bronze), 2005 (Gold), and 2006-07 (Silver).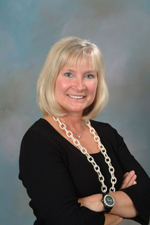 "It's a great time to buy with interest rates so low and inventory so high," said DiMeglio. "Please call me if I can help you make good decisions with my 13 years of experience," DiMeglio continued.
"From her professional work ethic to her consistently positive and enthusiastic personality, Suzy is a benefit to both our team and her clients alike," said Carol Mucerino, Branch Manager for Gloria Nilson GMAC Real Estate in Princeton.
The sales associates of Gloria Nilson GMAC Real Estate offer Premier Service®, a comprehensive customer-service program where sales associates put in writing, up front, the services they will perform. Following a transaction, customers are asked to honestly rate their agent's performance through a written survey tabulated by an independent research firm. DiMeglio has a customer satisfaction rating of 100%.
The Princeton office of Gloria Nilson GMAC Real Estate is at 33 Witherspoon Street. To reach Susan "Suzy" DiMeglio directly, call the office at 609-921-2600 or email sdimeglio@gnrgmac.com. For information about properties available, visit www.glorianilson.com.
About Gloria Nilson GMAC Real Estate
Gloria Nilson GMAC Real Estate has 16 offices and more than 600 sales associates throughout New Jersey. Owned by SCS Realty Investment Group, LLC, led by Dick Schlott, the company is a franchise of GMAC Home Services, which is owned by Brookfield RPS, a division of Brookfield Asset Management Inc. BRPS has one of the largest relocation companies in the world and its Realtor® network is nearly 30,000 strong, based out of 1,500 locations across North America.