Savannah, GA - (April 2009) —Cora Bett Thomas Realty recently joined in sponsoring the 6th Annual Spring Fling Fashion Show benefiting FRIENDS of Caroline Hospice. The event was held on April 22 at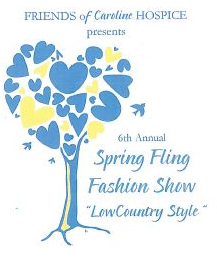 Dockside Restaurant in Beaufort, SC. This event is a fundraiser for FRIENDS, which is a non-profit, United Way organization, that has served the residents of Beaufort for more than twenty-nine years (www.FriendsOfCarolineHospice.org).
The Spring Fling was an afternoon for friends to get together, eat lunch and see the latest fashions straight off of the catwalk at Charleston Fashion Week. There was additional entertainment provided by Eu4ia, a quartet from the Beaufort Harbormasters. Former Saturday Night Live comedian, Terry Sweeny provided the fashion commentary and narration for the event.
Beaufortonians wishing to help a dying friend founded FRIENDS, making it the first hospice in Beaufort. FRIENDS relies entirely on donations and gifts from individuals, organizations, grants and fundraising to remain the only locally owned and managed hospice.
"FRIENDS of Caroline Hospice lives out their mission by providing home health care and support to Beaufort residents that are terminally ill as well as their friends and families free of charge," said Cora Bett Thomas, founder and CEO of Cora Bett Thomas Realty & Associates. "Beaufort is fortunate to have a local organization that provides support, guidance and care during the difficult times in one's life."
ABOUT CORA BETT THOMAS REALTY
With listings for the area's finest residential and commercial properties, Cora Bett Thomas Realty & Associates, is an exclusive affiliate of Christie's Great Estates (Savannah, Ga. and Bluffton and Hilton Head Island, S.C.) and Mayfair International Realty and a longtime member of Who's Who in Luxury Real Estate, The Board of Regents, Luxury Portfolio, and Leading Real Estate Companies of the World (formerly RELO). The firm dominates the luxury real estate market along the Georgia and South Carolina coast, with offices based in Savannah, Ga. and Bluffton and Beaufort, S.C. Under the leadership of founder and CEO Cora Bett Thomas, the company features an expert team of agents who specialize in historic homes, luxury condominiums, commercial real estate, investment property, land and waterfront property. For additional information, please visit www.CoraBettThomas.com online or call 912.233.6000.