PRINCETON, N.J., April 6, 2009 – Caryn Berla and Aron Arias have joined Gloria Nilson GMAC Real Estate of Princeton Junction as sales associates. With over 14 years of combined real estate experience, "Team Berla" represents a strong and experienced addition to this leading real estate office.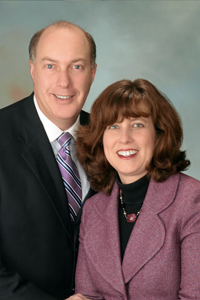 "We are very excited to join forces with Gloria Nilson GMAC Real Estate," said Caryn Berla. "We decided to make the move here because of the company's great reputation, its market leadership, fabulous agent roster and supportive management team. We believe we can grow even stronger and achieve even greater success," Berla continued. "Team Berla" feels the current real estate market presents tremendous opportunity and looks forward to servicing their clients with the powerful tools and superior support of Gloria Nilson GMAC Real Estate.
Caryn Berla received a Masters Degree in Marketing from Rutgers University, and prior to becoming a real estate sales associates she was a Product Manager with Reckitt & Colman, Inc. Aron Arias has an Accounting degree from SUNY Albany. In their spare time, both Berla and Arias are active members of the West Windsor community, a town they have lived in for over 10 years. They enjoy spending time with their two sons, playing tennis and traveling. Berla is co-President of Princeton Hadassah as well as the newsletter editor, and is a member of her sons' school PTA. Arias manages his son's Little League Baseball team, is Treasurer of his son's travel soccer team and Treasurer of Congregation Beth Chaim Men's Club.
"I am extremely excited to have Caryn & Aron join our successful team and look forward to supporting their growth to reach an even greater level of service and goals," says Rosalee Rockafellow, Branch Executive of the Princeton Junction office of Gloria Nilson GMAC Real Estate. "The experience and success they bring to their clients very much fits the Gloria Nilson GMAC Premier Service expectation," Rockafellow continued.
The sales associates of Gloria Nilson GMAC Real Estate provide Premier Service®, an innovative system that puts customer service guarantees in writing and invites consumers to evaluate their experiences afterward. Premier Service® promises consumers consistent and measurable levels of service rated by an independent survey.
The Princeton Junction office of Gloria Nilson GMAC Real Estate is located at 826 Alexander Road, Princeton, NJ. To reach Caryn Berla directly, contact her at 609-750-2076 or CBerla@gnrgmac.com. For information about properties available, visit www.glorianilson.com.
About Gloria Nilson GMAC Real Estate
Gloria Nilson GMAC Real Estate has 16 offices and more than 600 sales associates throughout New Jersey. Owned by SCS Realty Investment Group, LLC, led by Dick Schlott, the company is a franchise of GMAC Home Services, which is owned by Brookfield RPS, a division of Brookfield Asset Management Inc. BRPS has one of the largest relocation companies in the world and its Realtor® network is nearly 30,000 strong, based out of 1,500 locations across North America.
###