DENVER – Andrew Gonzales, a leading broker associate with Kentwood City Properties in downtown Denver, has earned the EcoBroker Certified designation from EcoBroker International. Gonzales successfully completed a unique and informative training program on the energy and environmental issues that affect real estate transactions. He joins the movement of professionals pushing the real estate market toward energy-efficient, sustainable, and healthier design/features in homes and buildings.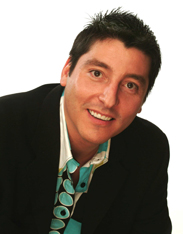 The "performance movement" is getting a boost thanks to high quality real estate professionals who earn the EcoBroker designation. With national surveys indicating that 80 percent of consumers consider themselves "green-minded," real estate agents with the EcoBroker designation are in a better position to serve the real estate consumer.
"I'm always looking for the best ways to offer my clients the best value," said Gonzales. "My EcoBroker training helps me ensure customer satisfaction, my number one priority. From windows to moisture control to energy savings, I now have more resources at my disposal to help my buyers and sellers make better real estate decisions. The EcoBroker designation doesn't make me an energy and environmental expert, but it allows me to better understand the issues and to convey this understanding to my buyers and sellers.
"With EcoBroker training, I have broadened the range of real estate opportunities I offer my clients," Gonzales continued. "Whether the transaction involves environmental assessment and mitigation (mold, radon, etc.) or the opportunity to reduce utility bills, I'm in a position to help. The real estate industry is changing, and to best serve my clients I need to understand the newest designs, technologies, and environmental issues. My EcoBroker designation helps me stay ahead of the game. I'm looking forward to positively impacting the quality, durability, comfort, safety, and cost-effectiveness of homes and commercial buildings."
EcoBroker International's education and designation program is designed exclusively for real estate professionals who care about the environment and want to help their clients benefit from the energy-efficiency. Real estate professionals must complete the extensive EcoBroker curriculum and training and fulfill additional program requirements to become Certified EcoBrokers.
For more information on real estate services from Andrew Gonzales, phone 303-489-1197, or contact Andrew via email at Andrew@kentwoodcity.com.
The Kentwood Companies are dedicated to its legacy of being "Colorado's Premier Real Estate Company" through the highest producing, most knowledgeable, caring and experienced sales team in the country, offering the highest quality customer service experience. The Kentwood Companies are innovators known for unparalleled marketing strategies and superior Internet technology that places its clients in the best possible position.