STEAMBOAT SPRINGS, CO -(January 15, 2009)— Earlier this week, Nick Metzler, Broker/Owner at Colorado Group Realty, announced a seven-figure price reduction on the magnificent lodge-style residence at 33250 Tatanka Trail, in the Tatanka Ridge Subdivision. This nearly 8000 square foot, 5 bedroom, 5 bathroom mountain home sits on over 10 enchanted acres.
"It is unusual to see a home of this quality so far (or significantly) below market value/replacement value. This price will draw those that have been waiting for a great buy on a great property in Steamboat," said Metzler.
The home was originally listed at $3,850,000. The current asking price is now $2,850,000: a price reduction of 1 million dollars.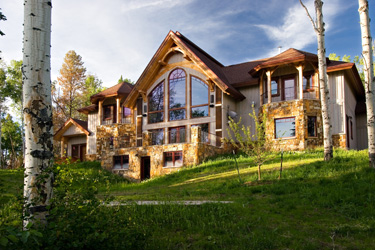 The new owner of this peaceful retreat will enjoy complete privacy among aspens and pines with plenty of sunshine and views as far as the eye can see. The home is located just 5 miles from downtown Steamboat. The purchase also includes full ownership of a 14' x 45' RV unit at the Hayden Airport Garages, located at the Yampa Valley Regional Airport.
"We have been seeing small price adjustments in our market, but this is definitely a notable one," said Bart Kounovsky, Chief Operating Officer of Colorado Group Realty. "This home is truly one of a kind in Steamboat Springs."
Visit www.SteamboatMountainHome.com for more information or contact broker, Nick Metzler.
About Colorado Group Realty
Colorado Group Realty, the largest 100% locally owned real estate firm in Steamboat Springs, has a deep commitment to improve the quality of life in the Yampa Valley.