DENVER - (January 9, 2009) – A new era of home construction in Denver will officially begin on Tuesday, January 20, 2009 when a crane is scheduled to hoist two upper floors for the first of three buildings that will comprise the exciting new Traverse townhome development in Curtis Park. Traverse is an innovative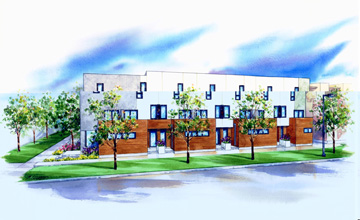 "Systems-Built" enclave that entails construction of the structures in an offsite factory and subsequently delivered to the construction site. The crane will be operating throughout the day on January 20th, providing a great opportunity for prospective buyers to view this unique townhome development first-hand.
Traverse is listed exclusively by Andrew Gonzales and Bill Verdon of Kentwood City Properties in downtown Denver. The leading real estate professionals will be serving coffee and hot chocolate from noon to 5 p.m. on January 20th at The Arden, a new townhome development adjacent to Traverse and located at 2428 Champa Street.
For details, contact Andrew at 303-489-1197, email Andrew@kentwoodcity.com, or Bill at 303-489-5217, email bill@kentwoodcity.com.
The three-story, very modern townhomes at Traverse are base priced from the $340's and only 13 homes will be built. The two-bedroom townhomes include 2-1/2 baths with up to 1,223 finished square feet plus a two or three-car attached garage. Each home showcases stainless steel appliances, Silestone quartz countertops, oak floors, birch doors, and maple cabinets. Owners will enjoy a balcony, an above-garage rooftop deck on three units, and an open staircase with solid oak treads and metal railings. Baths feature onyx countertops and under-mount stainless steel sinks, and the handsome exteriors include stucco and cedar siding. Traverse is scheduled for completion this spring.
These impressive townhomes are all green-friendly modular designs that are tighter and better insulated than the average new home due to the Systems-Built solution. The process is identical or similar to the methods and techniques normally found on any construction site in the country. Full-time craftsmen work year-round in climate controlled environments that virtually eliminate weather-related delays to the building schedule. Materials are stored in dry environments and assembled using pneumatic and hydraulic mechanical equipment, jigs, and in-plant overhead cranes to ensure a high level of quality. Each home is built to meet or exceed the minimum standards of the Uniform Building Code in the State of Colorado.
"Interested buyers and members of the media are all invited to attend the Traverse crane-hoisting event on January 20th," said Bill Verdon of Kentwood City Properties. "You can drop by The Arden sales office next door for some coffee or hot chocolate and Andrew Gonzales and I will help you with any questions or information you need. This is a very important development for the Curtis Park neighborhood as well as the future of homebuilding. We believe this is the first Systems-Built project in Denver. The builder, All American Homes, is one of the largest modular builders in the U.S. and it is based in northeast Colorado. Traverse is an environmentally-friendly development and there is absolutely no waste, with all scraps from the building process completely recycled. It only takes six months to complete all 13 townhomes, so buyers can move this spring. Another key attraction is the Curtis Park neighborhood, which is a very fashionable place to live."
Located just north of downtown Denver, Curtis Park was one of Denver's first residential neighborhoods and features some of Denver's oldest homes and historic storefronts. Today, the neighborhood is highlighted by a wide variety of homes, including recently renovated Victorian mansions and elegant Queen Anne-style homes. Curtis Park is distinguished by remarkable diversity with a rich tapestry of people and cultures. Mestizo-Curtis Park is one of Denver's oldest parks offering an outdoor pool, tennis and basketball courts, and a soccer field. Curtis Park Community Garden is a very popular attraction, and the community offers excellent childcare and educational facilities.
Remember, the big crane hoisting event is scheduled for Tuesday, January 20th throughout the day. Please drop by The Arden for more information, or contact Andrew Gonzales at 303-489-1197 or Bill Verdon at 303-489-5217.
The Kentwood Companies are dedicated to its legacy of being "Colorado's Premier Real Estate Company" through the highest producing, most knowledgeable, caring and experienced sales team in the country, offering the highest quality customer service experience. The Kentwood Companies are innovators known for unparalleled marketing strategies and superior Internet technology that places its clients in the best possible position.
For more information, visit The Kentwood Companies online at www.KentwoodRealEstate.com