WILTON, CT (November, 2008) - "It looks like a spaceship just landed in the middle of Wilton, CT, but it's actually a fully decked out circular home that rotates. Built in 1968 by famed architect Richard Foster, the Round House is both eclectic and extreme."
That is how HGTV's Extreme Living promoted its premiere episode in October, featuring The Round House, a listing of Barbara Cleary's Realty Guild in New Canaan, CT. The Round House sits 12 feet
off the ground on a cylindrical base and rotates 360 degrees at the touch of a button. Foster, a collaborator of the late Philip Johnson, had the goal of bringing the home's scenic vistas to every room in the house.
This is the second television show the Round House has been featured on in 2008. It also was a featured property on NBC's Open House NYC. Its international exposure has included appearing in such publications as Russia's Architectural Digest, Singapore's Prestige Magazine, and Germany's Finanzen magazine.
"It doesn't surprise me that Extreme Living chose this home for it's premiere show because it's a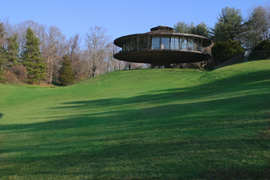 home that's truly a masterpiece, a one of a kind vision,'' says Brett Ciarlo, the Realty Guild's agent representing the house. "The home continues to generate interest from home and architectural aficionados from around the world.''
The Round House, which has expansive glass walls, can make a 360-degree turn in as little as 45 minutes or as long as six hours. Either way, the movement is indiscernible.
"Foster had a vision to enjoy panoramic views from every room—to awake in the master bedroom to a sunrise, or enjoy cocktails in the living room overlooking a warm sunset,'' Ciarlo says.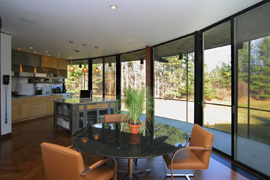 To get more information on the Round House, including viewing the episodes of Open House NYC that featured the Round House plus the Realty Guild's own movie of the property, visit realty-guild.com and go to its property tour section.
Barbara Cleary's Realty Guild, founded in 1986, is an exclusive affiliate of Christies Great Estate and is one of just 81 companies world wide on the governing board of LuxuryRealEstate.com. Its agents specialize in the New Canaan, Darien and Wilton markets. The company is located at 6 South Avenue in New Canaan and can be reached at 966-7772.