A third-generation Houstonian,
John A. Daugherty, Jr.
founded his company only nine months after he brokered his first home sale in 1966. With the mission of providing superior service for the client while encouraging maximum teamwork among the staff, the firm has become the consistent sales leader in Houston's most sought-after neighborhoods. In fact, its sales of more than $1.1 billion in 2007 were ranked the best ever for this premier, luxury residential real estate firm.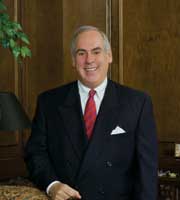 John Daugherty, Realtors
is comprised of more than 170 real estate professionals and 85 highly trained administrative staff members. Long recognized for the successful marketing of some of Houston's finest homes and estates, the firm has extended its reach to neighborhoods throughout the Houston area. John Daugherty, Realtors' leadership position in the residential real estate community is due to its commitment to serving the best interests of its buyers and sellers as well as its sales associates' unrivaled knowledge of the city's preferred residential areas.
What role does the Web play in the success of your company?
Thirteen years ago, I was concerned about the Web, but now I love it. I'm especially excited about the new Web site we debuted in March 2008, which is the most innovative real estate Web site in Houston. In addition to all our local listings, users can view thousands of properties through our affiliation with LuxuryRealEstate.com, an international network of the finest residential luxury real estate brokerages in the world.Reinforcing the impact of the Web is the fact that until the past year, some 25-to-32 percent of all our multimillion-dollar sales were to buyers located outside Houston. Now, that figure is 40 percent. All eyes are focused on Texas, and our Web site takes advantage of that. Houston is an international city and recently we've had visitors to our Web site from over 105 countries.
Why are buyers looking at Houston?
The dollar is cheap compared to most foreign currencies, and that's a factor. Specifically in Houston, the energy business is doing very well (and will be for some time to come); we have the third-largest port, which serves the central part of the country; and our high-tech business is going well. We also can boast the Texas Medical Center, the largest in the world – the second-largest is only half its size. There are 100 acres just south of the Medical Center, full of cranes for projects being developed by institutions such as the University of Texas and M.D. Anderson Cancer Center.This is one of the most exciting times I've seen in my 42 years in the business. Houston had bad times in the '80s and paid dearly (in its real estate values). In the last seven to eight years, we've had single-digit appreciation, approximately 4-to-5 percent. Today, Houston has the best economy in the U.S.
Your brand identity is very strong in this region. How have you built it and what are some of the marketing tools you offer your agents?
I followed some very good advice on being consistent, so except for a color change in the 1970s, we've had the same logo since 1967. I started an in-house advertising department in 1974, and we currently have five full-time people in that department out of a total of 85 full-time staff. I'm very marketing and sales oriented and am very involved with the work of that department.We also have a research department with two full-time people who verify every sale in our market area. We originated that group in 1982 and have used their work to promote unique information such as our Annual River Oaks Home Buyer Survey. (The annual survey ranks buyers' professions for home purchases in the prestigious River Oaks neighborhood in close-in Houston.)I mentioned our Web site, with our link to LuxuryRealEstate.com, which according to the Alexa Internet-ranking service is the most-viewed luxury real estate site on the Internet. We also assist our foreign buyers with a tool on our listings that converts the list price from U.S. dollars to several other currencies (the Canadian dollar, pound, Euro, yen, ruble and dirham, a Middle-Eastern currency). We also are a big proponent of the Houston MLS. Some 60-to-80 percent of our sales are cooperative.Our biggest key to success is our in-house training I began 40 years ago. Most companies train their sales associates on how to fill in contracts. We are unique in that we train on what to say and how to say it. We use role playing for situations such as listing presentations and contract negotiations.We credit all these tools in assisting our sales associates and helping John Daugherty, Realtors remain the consistent leader in high-end home sales year after year. For a number of years, the Houston Business Journal has published an annual list of the 50 most expensive homes sold in the Houston area. Since that list has been published, our firm has participated in more than 50 percent of those sales. Last year, we saw an increase: we participated in 60 percent of those top 50 sales and 80 percent of the top 20 homes on that list.
How has remaining an independent brokerage for your entire 41-year history affected your customer relationships?
It gives our customers more flexibility in that we have built relationships with brokerages all over the world – many of which we built as a former Sotheby's affiliate. We jointly market properties across the state and the world with many of these brokers. We also have a very important affiliation with RELO® (Leading Real Estate Companies™ of the World) and its Luxury Portfolio Fine Property Collection™, and I've mentioned our affiliation with
LuxuryRealEstate.com
.
Editor's Note: This interview was originally published here.