HUNTINGTON, N.Y. – (Sept. 22, 2008) –
Daniel Gale Sotheby's International Realty
, one of the nation's leading real estate companies, has acquired the Setauket, Long Island real estate office of veteran real estate broker Anthony Vitale. As part of the agreement, Mr. Vitale has joined Daniel Gale Sotheby's as Senior Vice President of Acquisitions and Expansion and will manage the Setauket office. Daniel Gale Sotheby's President and CEO Patricia Petersen, and Senior Vice President and Regional Manager Angela Anderson made the announcement.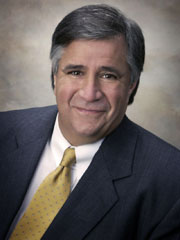 "The acquisition of this established Setauket real estate office is part of our ongoing initiative to extend our reach along the North Shore of Long Island and, as always, better serve our clients and customers," explained Ms. Petersen. "We're extremely pleased to be able to work with Tony Vitale. In addition to the benefit of his local knowledge and considerable expertise, Tony shares our vision and commitment to unrivaled service to buyers, sellers, and the community at large."Tony Vitale will work directly with Angela Anderson, who has chief responsibility for Daniel Gale Sotheby's western and central Suffolk County offices, including Setauket and the organization's flagship office in Huntington.With more than 20 years as a top producer in the real estate business, including ownership in Setauket Harbor Realty, Anthony Vitale has extensive sales management experience. Well known in the Setauket community, Tony is on the Board of SUNY Stony Brook's Athletic Director Advisory Council, is President of the Setauket Neighborhood, and serves on the Board of Directors and Nominating Committee of the Setauket Yacht Club, and is Membership Chairman.He settled in the Three Village area in 1984, and raised two grown daughters who attended the Three Village School District and the Knox School in Nissequogue.For his part, Anthony Vitale is eager to work with Daniel Gale Sotheby's International Realty. "Today's home buyers and sellers are avid consumers of information, particularly through the Internet. Daniel Gale Sotheby's quite simply provides the best marketing programs with the greatest reach. They are second to none."Daniel Gale Sotheby's International Realty's buying and selling clients both benefit from unparalleled exposure to a national and global audience through extensive worldwide marketing and the Daniel Gale and Sotheby's International Realty websites. Homes are also featured in Daniel Gale Sotheby's Premier Properties and showcased at Sotheby's auction house and global offices.Founded in 1922, Daniel Gale Sotheby's International Realty consistently leads the nation in achieving one of the highest average sales prices in the country. It is a $2.5 billion organization with more than 600 sales associates in almost 30 offices and divisions. Daniel Gale Sotheby's International Realty offices span Long Island. Services include an award-winning Relocation Center, a New Homes division, a Condominium Group, a Commercial Division; Ambassador Abstract, a full-service title company, and a Wells Fargo Mortgage affiliation. Daniel Gale Real Estate has been the exclusive Sotheby's International Realty® affiliate for Long Island's North Shore since 1976. Over the course of this relationship, Daniel Gale Sotheby's International Realty has gained exceptional national and international recognition, including taking top honors worldwide for the past several years.Daniel Gale Sotheby's International Realty is a member of Residence, The Registry, and is on the
Luxury Real Estate
Board of Regents
, a global network of leading real estate companies. More information may be obtained at
www.danielgale.com
.