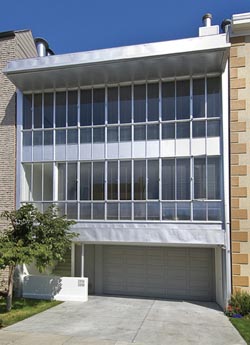 San Francisco, CA – November 3, 2009 – Architect Richard Neutra (1892-1970) has long been considered one of Modernism's most important architects. His design thought has been described as being based on a proposed "new realism" of focus; the realism of the "needs of the user," the human. His concentration was based on designing specific relations among rooms and outdoor views. His open floor plan, wide expanses of glass, and use of industrial finishes have withstood the test of time and are popular choices for modern living today.
The home now for sale at 2056-2058 Jefferson is a stunning example of the Neutra style of architecture in a prime San Francisco location, near the Palace of Fine Arts and Marina.
The building includes two flats plus a studio. The upper three bedroom, three bath unit occupies two levels, with an expansive roof terrace off the master suite that affords Golden Gate & bay views. The penthouse level also houses a 600-bottle wine room. The lower unit has the same footprint of the upper's main floor, with two bedrooms and two baths. The property includes a gorgeous garden, plus a four-car garage and a dumbwaiter from the garage to every floor.
A local newspaper once explained how home owners engaging Neutra played a significant role in shaping the design of the home itself. "What may have contributed to the individuality of a Neutra design was part of the process that was unique for architects at the time: to methodically inquire, using detailed questionnaires, what the owners of the homes truly wanted, allowing them to define the true needs for their residences." This was indeed a remarkable approach, displaying an astonishing ability to address practical lifestyle needs coupled with brilliant architectural design.
2056-2058 Jefferson was built for Dr. William Schiff and Dr. Ernest Wolfes in 1938. The current owner – an architect – purchased the building from original owner, Ilse Schiff, in 1993 and has spent the last decade restoring the building with remarkable care and precision.
Neutra's affinity for designing spaces which incorporate the outdoors through seemingly transparent walls of windows is evident throughout all the living areas. Overall, the property is a stunning example of the Bauhaus style of architecture in a prime San Francisco location. The Schiff house was featured in the Architectural Record of 1939 and Sunset Magazine in April 2005, along with many other publications.
More photos and information on this very special property can be found at www.2058Jefferson.com. Private showings can be arranged by contacting Hill & Co. Real Estate's Caroline Kahn Werboff at (415) 321-4260.
Please Note: Sources for this piece include Richard Neutra Complete Works by Barbara Mac Lamprecht, and Time Magazine's cover story on Neutra in August of 1949.
Hill & Co.
Founded in 1956, Hill & Co. Real Estate is a San Francisco brokerage long associated with the City's finest properties. With four offices and nearly 100 full-time agents, the company enables clients to successfully navigate San Francisco's complex real estate market. Two additional Hill & Co. offices provide property management and rental services. For more information, visit www.hill-co.com.