St. Charles Avenue Dotted With Million-Dollar Homes Up For Sale
Posted by Paul Murphy — August 27, 2009
As seen on WWL-TV August, 24, 2009
Courtesy of Eleanor Farnsworth of Prudential Gardner
NEW ORLEANS – (AUGUST 28, 2009) -  St. Charles Avenue in New Orleans has been described as the "Jewel of America's Grand Avenues." It's the finest collection of old south mansions in the country.
Travel down the tree lined street and its hard to miss so many architectural gems, now up for sale.
"You can look at the structure and see the detail," said realtor Eleanor Farnsworth. "It took five years to build, starting in 1903."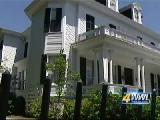 Farnsworth showed us around the home known by many as simply "The Castle." From the limestone exterior and magnificent gardens to the hardwood floors, handcrafted moldings and stain-glassed windows inside, this mansion is one of kind.
The home also comes with an $8 million price tag. The cost is expected to set an all time record for single-family homes in the city.
"It's an opportunity for someone to get a wonderful home that never comes available," said Farnsworth.
Gene Goldring and her husband just bought a home off of St. Charles in June.
"The architectural elements in these homes, you don't see them everywhere," said Goldring. "Walking around Uptown, everyday for us, I fall in love with the city all over again."
There are also mansions for sale in the Garden District.
The Coliseum Street home where the movie The Curious Case of Benjamin Button was filmed is now selling for about $2 million.
Actor Nicolas Cage is selling his house on Pyrtania Street for $3.4 million. Dorian Bennett has the listing.
"It's got all the whistles and bells," said Bennett. "It's got the yard, the garden, it's got the pool, it's got magnificent architectural details."
Bennett says if you're looking for luxury, now's the time to buy.
"It's been a while since I've seen so many for sale," said Bennett. "There are estates, divorces, there are different economic downturns and changes in people's lives that cause people to want to sell."
They say it's a buyers market, but you still have to have money.
We crunched the numbers: a $8 million dollar loan with a 30 year mortgage at 7 percent interest, the monthly payment would be $53,224.20.
Realtors say if you can afford one of these mansions, chances are you don't need a mortgage.