Top Producer and Technology Panels Shared Success Tactics and Strategies to Large Audience
Freehold, NJ, July 30, 2009 – Gloria Nilson GMAC Real Estate held a successful agent panel event for their sales associates and managers at the Radisson hotel in Freehold last week. Over 150 agents attended this free company event, featuring two panels of sales associates sharing their success strategies and ideas to the audience.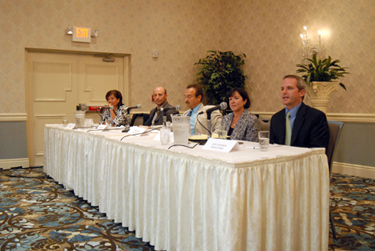 The first panel featured 5 top producers with the company who are 'beating the odds' of a challenging market with not only production success, but business growth over prior years as well. Panel members, ranging in experience from 3 years to 31years of real estate sales, fielded questions from Pat Bell, President of Gloria Nilson GMAC and Meryl Mosack, Luxury Market and Training Specialist.
"In keeping with our commitment to provide our sales associates with the latest tools, information and training, we host events like this once or twice a year," says Pat Bell, president of Gloria Nilson GMAC Real Estate. "This event was especially successful because it gave our agents a chance to hear directly from some of our top producers, who willingly shared their ideas and strategies that have helped them achieve such great results," Bell continued.
Top Producer Panel members included Marc Geller of the Princeton Junction office, Jane Heller with the Rumson office, Dennis Breza with the Hamilton office, Gary Thomson with the Middletown office and Alison Covello in the Princeton office.
"Our panels were a great mix of experience, professionalism and business strategies, and everyone learned a variety of success tactics and also benefitted from hearing different styles and approaches to doing business," said Meryl Mosack. "Being in a service business, with the needs of our clients coming first, it is important to show our agents that there are many different ways to be successful," Mosack continued.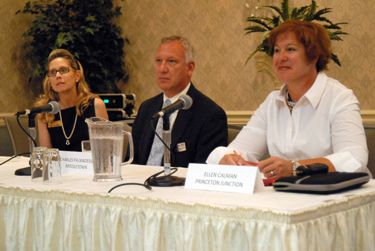 After a short break, the program continued with a Technology Panel featuring 3 agents who shared how they are achieving success using powerful online marketing tools and also through Gloria Nilson GMAC's email marketing system, Market Advantage, and their exclusive transaction management program. Panel members also discussed how they are using popular social networking sites to stay in touch with their contacts and promote their listings.
Technology Panel members included Ellen Calman of the Princeton Junction office, Madolyn Greve of the Princeton office and Charles Palmadesso of the Middletown office.
To find out more about Gloria Nilson GMAC or to search available properties, visit www.glorianilson.com. You can also follow their agents and their listings on Facebook, or at twitter.com/GloriaNilson.
About Gloria Nilson GMAC Real Estate
Gloria Nilson GMAC Real Estate has 16 offices and more than 600 sales associates throughout New Jersey. Owned by SCS Realty Investment Group, LLC, led by Dick Schlott, the company is a franchise of GMAC Home Services, which is owned by Brookfield RPS, a division of Brookfield Asset Management Inc. BRPS has one of the largest relocation companies in the world and its Realtor® network is nearly 30,000 strong, based out of 1,500 locations across North America.