FARMINGTON, CT. – The University of Connecticut Health Center in Farmington, CT was the scene of the recent ribbon cutting ceremony for the newly-opened William Raveis ACS Patient Navigator Program at the Carole and Ray Neag Comprehensive Cancer Center, as a result of a landmark $750,000 pledge from the William Raveis Charitable Fund, Inc. Attendees included William Raveis, chairman and CEO, William Raveis Real Estate; Carolyn D. Runowicz, M.D., director of the Neag Comprehensive Cancer Center and a past president of the American Cancer Society; Sarah Shafir, state vice president of health initiatives for the American Cancer Society; Jim Thibeault, Director, Signature Programs at the University of Connecticut Health Center; Carolyn Deal, past president/COO of William Raveis along with many well-wishers from all three organizations.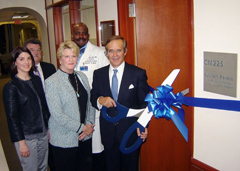 "The dedication of this program is very meaningful for me because this has been a joint effort of everyone in our company," said William Raveis. "This has become possible as the result of the devotion and hard work of 2000 agents and employees who embraced this program," he added. "Although we have been supporting cancer research and patient support since 2004, the idea of extending our funds to facilitate the navigation program was another way for us to help others right here and now that are struggling with the news of cancer for themselves or of someone in their family. It is our family helping other families."
The William Raveis Navigator Program provides guidance and support for cancer patients, their families and caregivers as they face the logistical, financial and emotional challenges of their unique cancer experience. "Due to the generosity of the William Raveis Charitable Fund, Inc., the American Cancer Society and the Neag Comprehensive Cancer Center, this program is provided free to all patients," said Carolyn D. Runowicz, M.D. of the Neag Comprehensive Cancer Center.
"Receiving care for cancer can be a lengthy process spanning many months of treatment," she added. "Thanks to William Raveis, we will have a patient navigator right here, every day, in our cancer center. The navigator is available to all patients to make sure they receive the education, support and assistance they need during every phase of their care right though survivorship."
In 2007, Raveis turned its attention to funding the patient navigator program at UConn.
Supporting the program was intriguing to many of the top leaders at William Raveis Real Estate, Mortgage & Insurance, including past president/COO Carolyn Deal, a 10-year cancer survivor.
"When you're first diagnosed, you only halfway hear the things people are telling you. You don't even know what questions to ask," Deal said. "And you quickly find that the more you ask other people, or the more you look online, the more overwhelmed you get, because everyone's cancer is different," she added, noting that she would have appreciated a Navigator program when she was first diagnosed.
"The patient navigator serves as a personal guide to patients with cancer and caregivers, offering additional resources to individuals who face financial, language, or cultural barriers. The program places an emphasis on assisting the medically underserved," noted Sarah Shafir of the American Cancer Society.
"A cancer diagnosis can be a life-changing experience for patients, their families and their caregivers," Shafir said. "The patient navigator is able to provide support every step of the way, from explaining what to expect with therapy, to making sure patients have transportation to and from appointments. Fighting cancer is a difficult, challenging journey; with the help of trained navigators, patients don't have to go through it alone."
"Through the generosity and vision of the Raveis Foundation, our patients will benefit from the American Cancer Society patient navigator program every day," Dr. Runowicz added. "We are enormously grateful to the Raveis Foundation for their support."
The University of Connecticut Health Center includes the schools of medicine and dental medicine, the UConn Medical Group, University Dentists, and John Dempsey Hospital. Founded in 1961, the Health Center pursues a mission of providing outstanding health care education in an environment of exemplary patient care, research and public service. To learn more about the UConn Health Center, visit our website at http://www.uchc.edu. Note: News professionals are invited to visit the Office of Communications homepage at http://www.uchc.edu/ocomm/ for archived news releases and other information.
William Raveis Real Estate, Mortgage & Insurance is one of the top companies in the nation. It is rated as the #1 family-owned real estate firms in New England, the #2 family-owned real estate company in the United States and #12 out of 100,000 real estate firms nationwide. The innovative company is nationally recognized as an industry leader and is dedicated to providing an unparalleled real estate experience to its customers. Since 1974, the firm's 2,000 highly trained sales professionals have been dedicated to strengthening their position as industry leaders in technology, marketing and REALTOR® education. The company has 63 offices, including two affiliates, in Connecticut, Massachusetts and Rhode Island. Future plans entail expansion into New York, Vermont, New Hampshire and Maine.