Mucerino brings years of experience and success to the leading office
Middletown, NJ, April 6, 2009 – Gloria Nilson GMAC Real Estate has hired Carol Ann Mucerino, a 35 year industry veteran, to manage their Princeton sales office. Mucerino brings a wealth of management experience to this office of seasoned real estate professionals.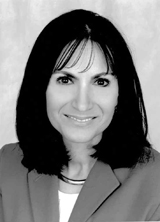 Mucerino will be responsible for recruiting, overseeing and growing office production and coaching sales associates, while leading the office's efforts to serve their local communities with excellence and premier service.
"I am delighted to welcome Carol Mucerino to our management team. Her strong real estate background and knowledge of the luxury market will be a valuable contribution to our company and the Princeton office," says Pat Bell, president of Gloria Nilson GMAC Real Estate.
Mucerino is actively involved in the National Association of REALTORS®, as well as the New Jersey and Mercer County Associations of REALTORS®. Prior to working in management, she earned NJAR®'s prestigious Circle of Excellence award in 1981-1988, 1991 and 1995. Mucerino is also the recipient of the NJAR® Quarter Century award.
"I am honored to be a part of such a strong and leading office," said Mucerino. "I look forward to growing our market position even further and to helping our sales associates achieve greater success," Mucerino continued.
Mucerino served as a board member for NJAR® from 1994-1996, during which time she developed professional programs and worked to preserve the integrity of the New Jersey real estate industry.
The Princeton office of Gloria Nilson GMAC Real Estate is at 33 Witherspoon St., Princeton. For information about home buying or selling, or to find out about a career in real estate contact Carol Mucerino directly at (609) 921-2600 x158. For information about properties available visit www.glorianilson.com.
About Gloria Nilson GMAC Real Estate
Gloria Nilson GMAC Real Estate has 16 offices and more than 600 sales associates throughout New Jersey. Owned by SCS Realty Investment Group, LLC, led by Dick Schlott, the company is a franchise of GMAC Home Services, which is owned by Brookfield RPS, a division of Brookfield Asset Management Inc. BRPS has one of the largest relocation companies in the world and its Realtor® network is nearly 30,000 strong, based out of 1,500 locations across North America.