Rhode Island - (April 8, 2009) - Lila Delman RealEstate announces the offering of the Rhode Island golf and yachting residence currently owned by world renowned actress Anne Archer and her husband Terry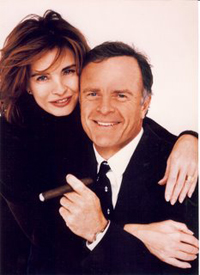 Jastrow for US$1.1M. The luxurious golf residence is located within the Carnegie Abbey Club, a private waterfront sporting estate just outside Newport, Rhode Island.
Anne Archer and her husband, executive producer Terry Jastrow, bought the 1,600 square foot townhouse new in 2003. It is uniquely designed to emulate the interior of a super-luxury yacht, incorporating design features and furnishings of the highest quality. It is the only residence designed to capture both west facing views over Narragansett Bay and east facing views of the golf course. The residence may also serve as two separate one bedroom homes, great for guests and family visitors. It also features a fully equipped kitchen, two bedrooms, two baths, a powder room, a wet bar and water views.
Anne Archer, nominated for an Academy Award for her role as Michael Douglas' tortured wife in "Fatal Attraction" 1987 is perhaps better known to all of us for playing opposite Harrison Ford in "Patriot Games" and "Clear and Present Danger." Archer is currently co-staring in the new series "Privileged" and will be seen in a new romantic comedy "Ghosts of Girlfriends Past."
Terry Jastrow is a winner of seven Emmy Awards, having produced and directed some of television's most prestigious and important sports programs over the past 25 years. These included the Super Bowl XIX (1985), the Indy 500 and the Kentucky Derby. He also produced 6 Olympic Games and was producer of ABC's Sport Golf Series.