DENVER – Karen Kilde has been nurturing a special segment of the real estate market that is often overlooked by many real estate professionals. As a Certified Senior Housing Specialist, the leading broker associate with The Kentwood Company at Cherry Creek understands the special needs of senior members of the community. Whether senior clients are downsizing to a carefree lifestyle, moving to assisted living facilities, or buying a retirement or vacation home, Kilde is able to help these special clients through the knowledge obtained as an expert in this important segment of the real estate market.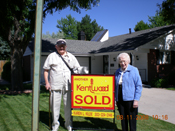 "Karen Kilde made excellent suggestions in helping us ready our home for sale," said John and Phyllis Hutchins. "Two days after it was on the market, we had two contracts and it was sold to our complete satisfaction. We thank Karen for her outstanding advice and assistance."
"Karen Kilde was recommended to me by a business acquaintance," said Genelle Max. "She was very professional and gave me the confidence to make the needed decisions to sell my house in a down market. Her knack at networking was so helpful. She made suggestions to make the house more attractive and provided the resources for me to make that happen. When there was a glitch in contract negotiations, she worked hard to get those problems solved quickly. Although there was another house on my block that had been for sale for several months, my house sold in two days at the price I had asked."
Karen Kilde has been working with seniors for several years. Her track record for selling senior's homes quickly at a fair price is exceptional. Kilde helps them with ideas on preparing the home for sale and advice on how to downsize with a list of referrals. She has also conducted several downsizing seminars and is available for future seminars when requested.
"I am very passionate about making the process stress free and simple," says Kilde. "Many seniors are afraid to list their homes now because of all the negative press about the real estate market. If homes are priced right and in good condition, they will sell regardless of market conditions."
Karen Kilde earned her real estate license in 1997 and is a member of the Denver Board of Realtors. She is also a Certified International Property Specialist and member of the Million Dollar Roundtable recognizing superior sales production. Kilde is the current president of the Cherry Creek Business Women's Network and is actively involved with various charitable endeavors, including FACES, the YMCA, the Courage Classic, and the Susan B. Komen Race for the Cure. A Denver resident since 1971, Kilde brings a vast knowledge of metro Denver's neighborhoods to the real estate profession.
For more information on real estate services from Karen Kilde, phone 303-324-3146, or contact Karen via email at kkilde@comcast.net.
The Kentwood Companies are dedicated to its legacy of being "Colorado's Premier Real Estate Company" through the highest producing, most knowledgeable, caring and experienced sales team in the country, offering the highest quality customer service experience. The Kentwood Companies are innovators known for unparalleled marketing strategies and superior Internet technology that places its clients in the best possible position.
For more information, visit The Kentwood Companies online at www.DenverRealEstate.com.
# # #