San Francisco, CA – February 11, 2009 – The enormous homes of Cow Hollow are made of brick, mortar and wood, and look substantially unchanged on the outside.  And yet their purpose and composition can be remarkably fluid. New fashions, new technologies and new economies all play a role in the evolution of their use and interiors.
2766-2768 Green Street is one such property.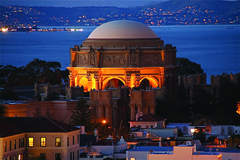 Construction of the original Tudor two-flat building began in 1908, a scant two years after the '06 Earthquake. John Gaddy's grandfather, Dr. Ruben Hale, DDS, started building this English Tudor style building in 1908. The Hale family moved into their new home in 1910.  John's mother was born in 1910.  Three generations of the family have lived in this building since then.  In the 1930s, a third flat was added to the building.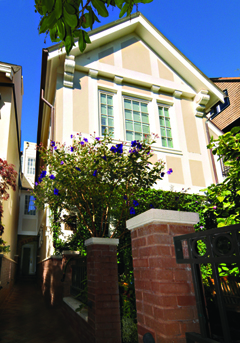 The views from each flat of the Bay and Marin headlands are as spectacular as they were 100 years ago. Of course, since those early days, the Marina district, Palace of Fine Arts and Golden Gate Bridge have been added to the landscape, making the views even more breathtaking.  The great restaurants and shops of Union, Chestnut and Fillmore Streets and the Presidio are all within walking distance.
But what has really changed is the property itself…especially in the past decade. Current owner and grandson of the home's builder, John Gaddy has spent ten years remodeling and retrofitting the building. The units have now been beautifully converted into three stunning condominiums, all with designer kitchens, renovated bathrooms and remarkable amenities.
This was a painstaking transformation, executed with loving care and tremendous attention to detail. John's grandfather, Dr. Ruben Hale, would be proud of his grandson's work.
"I owed it to earlier generations to do this right," said Mr, Gaddy. "I was taught not to take shortcuts, and my standard was to do simply the best work possible. I wasn't about to do anything that would compromise the quality of this building."
Each of the three flats offers a large living room with wood-burning fireplace, formal dining area, remodeled chef's kitchen with granite countertops and many top-of-the-line appliances. Each includes hardwood floors, custom built-ins and oversized double paned windows that beautifully frame the world-class views. And in each unit, the bathrooms are large and contemporary.
Naturally, the property still possesses some very special connections to its past. As visitors approach the house from the front, they pass though an ornate gate, past a beautifully landscaped brick garden. Three generations of the Gaddy family have tended to this garden for almost 100 years, and people passing by still stop to admire its intricate landscaping.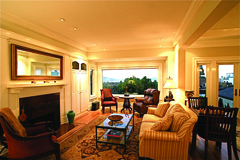 In the rear garden, Mr. Gaddy has placed monuments in tribute to his father, John Raymond Gaddy, an All-American football player at USF (1928-1932) who went on to enjoy a 37-year career at City College of San Francisco (1935 -1972) primarily as the athletic director.   
Still, the building feels new again. It is prototypical of so many stately homes in the neighborhood, which continue to change with the times, and in the process perhaps stay forever young. This of course is nothing new. After all, the neighborhood itself, Cow Hollow, one of San Francisco's toniest neighborhoods, was once home to dairy farms.
Hill & Co.
Founded in 1956, Hill & Co. Real Estate is a San Francisco brokerage long associated with the City's finest properties. With three offices and nearly 100 full-time agents, the company enables clients to successfully navigate San Francisco's complex real estate market. Two additional Hill & Co. offices provide property management and rental services. For more information, visit www.hill-co.com.