REDBANK, N.J., Feb. 10, 2009 – More than 300 sales associates and branch executives of Gloria Nilson GMAC Real Estate gathered recently at the Battleground County Club in Manalapan, N.J. Dick Schlott, well-known real estate professional and new owner of the 16-office company, shared his optimism for the future and his commitment to Gloria Nilson GMAC Real Estate, the area market leader with offices across Monmouth, Mercer, Ocean and Middlesex counties.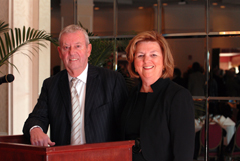 Schlott was responsible for bringing Gloria Nilson Realtors to GMAC Home Services in 2000 during his tenure there as president and CEO, prompting him to share his excitement about the opportunity ahead.
"It's like coming home," said Schlott.  "I recognized the quality of the Gloria Nilson brand when I brought it to GMAC and it is as strong – or stronger – now." It was obvious by the excitement and energy in the room that the sales associates were responsive to Schlott's message and the company's direction for the future.
Pat Bell, president of Gloria Nilson GMAC Real Estate, addressed the real estate professionals acknowledging the depth of new programs launched in 2008 and the substantial market share the company enjoys. "Consumer expectations have changed because of the current economic situation and recent events in the financial markets," said Bell. "Our consumers demand even more from us in the way of knowledge and service. The programs we have launched this past year are an example of what we will continue to offer our sales associates, to help them improve their skills and services to our clients."
Bell and Schlott recognized everyone's hard work over the past year, and commended their outstanding performance. For 2008, Gloria Nilson GMAC Real Estate was once again a market leader in Mercer and Monmouth counties. Even more importantly, the company has a 96 percent customer satisfaction rating, based on an independent survey.
Motivated by the proven strength of the company, Schlott shared his optimism that the market will turn around, placing Gloria Nilson GMAC Real Estate in an ideal position to move forward, growing in the markets now served and beyond. Schlott's longtime credo, "no commission is worth our reputation," is as pertinent today as ever, and is a sentiment shared by everyone at this customer-focused company.
To contact Dick Schlott or Pat Bell, call the corporate office at 732-450-2300. For information about Gloria Nilson GMAC Real Estate, visit www.glorianilson.com. 
About Gloria Nilson GMAC Real Estate
Gloria Nilson GMAC Real Estate has 16 offices and more than 600 sales associates throughout New Jersey. Owned by SCS Realty Investment Group, LLC, the company is a franchise of GMAC Home Services, which is owned by Brookfield RPS, a division of Brookfield Asset Management Inc. BRPS has one of the largest relocation companies in the world and its Realtor® network is nearly 30,000 strong, based out of 1,500 locations across North America.