San Ramon, Calif. (February 3, 2009)— Intero Real Estate Services, Inc. announced today that the Broker and Managing Partner, Rishi Bakshi, of the Intero Fremont and Union City franchisees will be opening a state of the art San Ramon real estate office at Gail Ranch Plaza. This office will embrace the new Intero AndareSM office concept announced publicly in August 2008.
Andare is an Italian word that means "to go or to work." The concept for the Intero Andareofficecame about in 2007 when Intero's executive team decided to create a smaller, technology–rich and more eco–friendly real estate office that better met the needs of today's mobile REALTOR®.
"The nature of our business has changed. Agents aren't spending as much time at their desks as they were 10 years ago," said Gino Blefari, president and CEO of Intero Inc., "Most REALTORS® have a wireless–enabled laptop and PDA, and they're on the go. They don't need cubicles. They need an attractive space with a few secluded areas where they can go to meet with clients and work—where they have access to technology and can get their work done as efficiently as possible."
Rishi Bakshi, explains his reasons for opening an office under this concept, "The new space will be a positive hub of energy. We are excited to offer a high-tech, upscale, and comfortable environment for our agents and clients. The new space and design also allows us to keep our startup costs low as possible. We are looking forward to have offices in all key signature spots in the East Bay."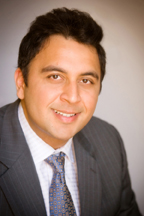 What distinguishes the Intero Andare office from others is its use of cutting–edge technology, including tablet PCs, keyless entry, Voice Over IP (VoIP), flat screen plasma TVs, and a high speed Wi–Fi network. The office also uses Web–based transaction management software that gives agents the ability to manage entire client files online and eliminate the need for paper and storage. Clients can sign directly to a PDF and those signatures are as secure and official as a contract on paper. Intero then stores the files securely online where they remain available to access down the road from any location.
With the office still in its completion phase, Rishi already has 10 agents on board to work through his new office, and plans to gain one hundred more. The doors to the San Ramon office will officially open this February. Rishi next steps are continued expansion, he has set his sites on opening similar offices throughout the East Bay corridor in cities such as: Pleasanton, Danville, Lafayette, and the Oakland Hills.
ABOUT INTERO REAL ESTATE – FREMONT & UNION CITY FRANCHISEES
Rishi Bakshi's opened his first Intero franchise in December of 2005, and now is owner and broker for Union City, Fremont, and the upcoming San Ramon offices. With an Intero-like driven attitude Rishi's offices grew from 0-160 agents in less than three years. Rishi's newest office, San Ramon will be located at 11020 Bollinger Canyon Road, Suite D San Ramon, CA 94582 Phone: (925) 498-0010 Fax: (925) 498-0020.
ABOUT INTERO REAL ESTATE SERVICES Founded in 2002 by President and CEO Gino Blefari, Intero Real Estate Services Inc. has quickly become one of the premier real estate brands in the country. Blefari and Chairman Bob Moles were given the prestigious RISMedia National Home Ownership Award at the 2007 NAR Conference & Expo for "outstanding achievements among residential real estate's most influential and charismatic leaders." And in 2006, Blefari was awarded the EcoBroker Community Service Award given by EcoBroker International and the Association of Energy and Environmental Real Estate Professionals. With more than 2,000 agents in 53 offices serving California, Arizona, Colorado, Hawaii, Nevada, Texas, and Mexico, Intero is one of the fastest growing real estate companies in the history of the industry. The brokerage was named the #1 residential real estate company in Silicon Valley by the Silicon Valley/San Jose Business Journal (2005) and the fastest organic growing real estate company in the nation, out of 80,000 brokerages, by REALTOR® magazine (2004 & 2005). Contact Intero Real Estate Services at or by calling 408.342.3007. For more information on master franchising opportunities, contact Jose Perez at (404) 272-4646, jperez@pcmsconsulting or masterfranchising@interorealestate.com.