Napa, CA – December 23, 2008 – Pacific Union GMAC Real Estate is pleased to announce Ebbie Conatser has joined the firm working from the Napa office. Conatser was previously with Meritage Properties, Inc.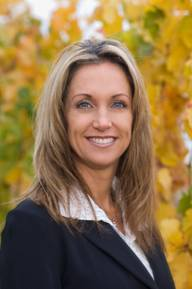 "We are so pleased to have Ebbie join our Pacific Union family in our downtown Napa office. Ebbie's commitment to education and staying ahead of the professional curve are evident in her approach to real estate and her clients' needs," said Heidi Rickerd-Rizzo, VP and Branch Executive of the firm's two Napa Valley offices. "Ebbie will be a wonderful asset to Pacific Union and reflects all that our company values in an associate."
Ebbie moved to Napa more than a decade ago and began her real estate career by acquiring her Real Estate Appraisers License. She spent the next eight years completing residential real estate appraisals throughout the Napa Valley, used to determine the fair market value of a variety of homes. In 2006, Ebbie advanced her real estate career by acquiring her Real Estate Brokers License. Following that, she earned the California Association of REALTORS Graduate, REALTOR Institute GRI designation. The GRI is considered by many real estate industry professionals the most advanced and comprehensive training program available to real estate agents in North America.
"I understand how important it is to have a trustworthy Realtor on your side. Selling or purchasing a home is a major investment of your time, energy, resources and emotions, and will substantially affect your future. Your satisfaction, success and well being are my top priorities," said Conatser.
Contact Conatser at 707.333.2624 or email ebbiec@pacunion.com.
Pacific Union GMAC Real Estate
Since 1975, Pacific Union GMAC Real Estate has thoughtfully matched generations of buyers and sellers throughout the entire Bay Area. Pacific Union GMAC focuses on delivering outstanding quality and unparalleled service to a full spectrum of discerning clients. Pacific Union GMAC is the 2008 recipient of two distinguished four star Americas Property Awards in association with CNBC and The New York Times as the Best Real Estate Firm in California and for the Best Real Estate Agency Marketing in the USA for superior marketing materials and client services in the luxury marketplace. A premier, locally managed brokerage with knowledgeable, experienced real estate professionals, Pacific Union GMAC takes a leading edge to new technology applications designed to enhance the client experience. Pacific Union is a GMAC Home Services company. For more information, visit www.pacunion.com.