Berkeley Association of Realtors Presents Prestigious Honor Dec. 12
San Francisco, CA – December 17, 2008 – Pacific Union GMAC Real Estate is pleased to announce that Lori Lombardo was named Realtor of the Year 2008 by the Berkeley Association of Realtors. Lombardo, an agent with Pacific Union's Berkeley office, received the well-deserved award for her outstanding service, professionalism and contributions to the community at the annual Installation of Officers & Directors Ceremony on December 12.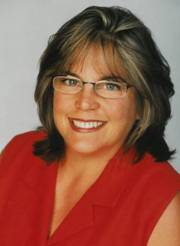 "This was a complete surprise for Lori. She had no idea she was even nominated for the award by colleague Diane Verducci," said Pam Hoffman, VP and Branch Executive of Pacific Union's Berkeley and Montclair offices. "The honor being named of Realtor of the Year is certainly deserved by Lori."
For the past several years, Lombardo has been a very active director on the Berkeley Board of Realtors and most recently developed campaigns as Chairperson of the Community Funds Committee to gain contributions for the Youth Arts and Education Fund and the Workforce Housing & Homeless fund. She worked to establish the application process for all the many applicants. Thanks to her efforts of awareness to the rest of the real estate community, the Workforce Housing Fund distributed more than $6,500 in the last two years and the Youth Arts & Education distributed $15,000.
Now Lombardo has undertaken yet another goal: the Realtor's Cookbook. With the proceeds from sales, an estimated amount of $6,000 will go toward the Community Fund for next year.
"I have known Lori for some time. She has helped with other fund-raisers for the Aurora Theatre and associations in the area. I ma thrilled to see her recognized by the community of real estate agents who are her colleagues and family," said Diane Verducci, Pacific Union agent with the Berkeley office.
Pacific Union GMAC Real Estate
Since 1975, Pacific Union GMAC Real Estate has thoughtfully matched generations of buyers and sellers throughout the entire Bay Area. Pacific Union GMAC focuses on delivering outstanding quality and unparalleled service to a full spectrum of discerning clients. Pacific Union GMAC is the 2008 recipient of two distinguished four star Americas Property Awards in association with CNBC and The New York Times as the Best Real Estate Firm in California and for the Best Real Estate Agency Marketing in the USA for superior marketing materials and client services in the luxury marketplace. A premier, locally managed brokerage with knowledgeable, experienced real estate professionals, Pacific Union GMAC takes a leading edge to new technology applications designed to enhance the client experience. Pacific Union is a GMAC Home Services company. For more information, visit http://www.pacunion.com/presidio.