New site designed to meet the needs to today's consumers
MIDDLETOWN, N.J., Nov. 25, 2008 – Gloria Nilson GMAC Real Estate recently launched a new company website, with an exciting new look and an abundance of new features for their sales associates and consumers. www.glorianilson.com has a sleek new design, and was built from the ground up to meet the needs of today's consumer.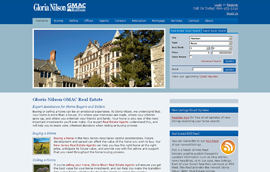 Since the introduction of the Internet, the process of buying and selling real estate has changed dramatically. Today, thanks to the Internet, that process begins much earlier, with consumers researching areas and properties on line sometimes a year in advance of when they are looking to make a move. Gloria Nilson GMAC knows it is not enough just to have a website; you have to have one that delivers the information consumers want and need.
"The Internet has changed the way information is shared about real estate, and consumers have more choices than ever," says Pat Bell, President and CEO of Gloria Nilson GMAC Real Estate. "It was important for us to redesign out site in order to continue to best serve our customers. That means giving them a web site with all the information they need in order to help them make good decisions," Bell continues.
With 84% of buyers today starting their home search on line, according to the National Association of Realtors®, Gloria Nilson GMAC's new site offers the tools and information consumers need to research properties, find a sales associate, view financing information and much more. The website is easy to navigate, has enhanced search options, and quick links to search available homes in specific towns.
One of the exciting new features of glorianilson.com is an RSS feed, which consumers can subscribe to for the most recent updates in listings. When you subscribe to a feed, updated information is automatically downloaded to a person's computer and can be viewed in Internet Explorer and other programs.
For information about properties available, visit www.glorianilson.com.
About Gloria Nilson GMAC Real Estate
Gloria Nilson GMAC Real Estate has 16 offices and more than 700 sales associates throughout New Jersey. GMAC Home Services, LLC is the parent company of Gloria Nilson GMAC Real Estate with nearly 20,000 agents and more than 1,000 office locations throughout the United States, Puerto Rico, Canada and Portugal. In addition to real estate brokerage, GMAC Home Services LLC provides comprehensive relocation, mortgage and real estate brokerage franchise services.