Program by Steve Woodruff Emphasizes Helping Customers Make Good Decisions
PRINCETON, N.J., Nov. 11, 2007 – Real estate shouldn't be about earning a commission check, but rather helping customers make a good decision. What may seem a radical idea to some is an established theory at Gloria Nilson GMAC Real Estate. To stress that school of thought, Gloria Nilson GMAC Real Estate is offering its sales associates and branch executives an intensive training program in "Consultative Selling."
The term, as explained by New Jersey-native Steve Woodruff, refers to relationship selling. Woodruff, owner and president of The Woodruff Group based in Cedar, Mich., will facilitate the five-week course for nearly 80 participants.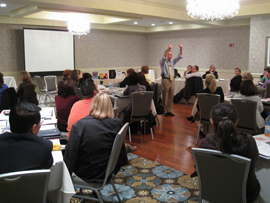 Relationship selling requires the real estate professional be an advisor, not a salesperson, Woodruff explains. "Helping clients make good decisions is the goal rather than a commission check," he says. "Before you can help someone, you first have to understand them. Focus not on the real estate, but the people who live in the real estate.
"Don't close a sale," Woodruff says. "Open a relationship."
Gloria Nilson GMAC Real Estate President and CEO Pat Bell says: "We are always looking for programs and tools to help our agents be successful. Especially in this challenging market, I am excited to offer Steve Woodruff's winning program to our associates, and proud of everyone that chose to take advantage of it. It is a testament to the team of professionals we have at the company."
Such personalized service is the focus of Gloria Nilson GMAC Real Estate's Premier Service®, a revolutionary system that puts customer service guarantees in writing and invites consumers to evaluate their experiences afterward. The company enjoys a knowledgeable, highly skilled sales force in addition to a reputation for maintaining high standards.  
For information about joining Gloria Nilson GMAC Real Estate, contact their corporate office at (732) 450-2300. For information about the company's training offerings, contact Meryl L. Mosack, luxury marketing and training specialist, at mmosack@gnrgmac.com. For information about properties available, visit www.glorianilson.com. 
About Gloria Nilson GMAC Real Estate
Gloria Nilson GMAC Real Estate has 16 offices and more than 700 sales associates throughout New Jersey. GMAC Home Services, LLC is the parent company of Gloria Nilson GMAC Real Estate with nearly 20,000 agents and more than 1,000 office locations throughout the United States, Puerto Rico, Canada and Portugal. In addition to real estate brokerage, GMAC Home Services LLC provides comprehensive relocation, mortgage and real estate brokerage franchise services.