Truckee, Calif. (Nov. 10, 2008) – In a region that often boasts the coldest temperatures in the United States, Truckee is a prime candidate for energy-efficient homes that embrace green building practices. Chase International offers two such properties: one that utilizes super fire-resistant rammed earth building techniques and another that features insulated concrete form (ICF) construction and plenty of passive solar and recycled materials in its unique design.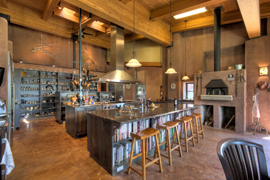 Situated on 20 acres in a private, gated Truckee subdivision, Bob and Penny Fink's 7,000 square foot 2003 rammed earth home utilizes building tenets as old as the Great Wall of China. The building method is similar to adobe techniques in that the soil is mostly clay and sand. However, modern rammed earth building includes cement in this mixture. The earth mixture is impacted against a solid surface using special guns. In the Finks case, the solid surface was the insulation sheets, which were coated from both sides. The outer surface is then finished by hand to create a uniform, flat, but textured surface.
Homeowner Penny Fink says the couple has always been intrigued by green building techniques and wanted to build a home that was energy-wise. The five-bedroom, four-and-a-half bath home features 24-inch thick walls on the first floor and 12-inch thick walls on the second. The thick walls assist in maintaining comfortable interior temperatures year-round and the concrete flooring conducts heat in winter.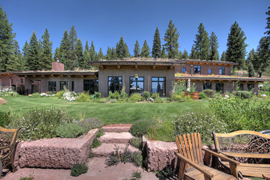 "There is a very warm feeling in the home," notes Penny Fink. "The structure has such a feeling of strength and quiet; it's substantial without feeling heavy. People fall in love with the house when they visit; it really is a very emotional experience."
The home also features geothermal heating, passive solar and a "green" roof.
"A planted green roof was a childhood dream of mine that was finally realized," adds Fink. "Not only is this home environmentally friendly, but it is maintenance free and fire-resistant."
According to the Finks, the house does not need painting or staining, just minor attention to trim every few years.
Other notable features include a four-car garage, a professional chef-style kitchen that offers a wood-burning pizza oven as well as top-of-the-line Sub-Zero and Viking appliances. The beautiful master suite has an office, fireplace, walk-in closet and a spacious bath with separate shower and tub along with a door to the hot tub and garden area. The home's theater has an LCD projection system and seating for 10 to 15 people.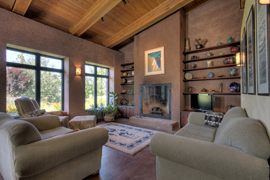 Like the Finks, Chase International broker/homeowner Jeff Hamilton used green building techniques in his Donner Lake residence that is currently listed on the market for sale. "By choosing a green home design, we are essentially casting a consumer vote about how we want to live our life and protect our environment," explains Hamilton.
Hamilton's 3,250 foot home is located on the western inlet of Donner Lake with 300 feet of deep water creek frontage. This green building advocate utilized insulated concrete form building methods, which used recycled Styrofoam. Hamilton also used reclaimed steel siding for the exterior and windfall trees for interior posts and beams.
Built in 2008, the home with three bedrooms, two-and-a-half baths and designated space for an in-law cottage lives up to its claim of passive solar with scores of southern-exposure windows, 10-inch thick walls, concrete flooring, and a large concrete wood-burning fireplace. "The amount of thermal mass here is extraordinary, which makes this home both aesthetically beautiful and environmentally correct," says Hamilton. 
For more information on the rammed earth home, contact Trinkie Watson at 800-783-0722 or email twatson@chaseinternational.com. For more information on Jeff Hamilton's Donner Lake home, call 530-583-4400 or email jhamilton@chaseinternational.com.
Headquartered in Lake Tahoe, Nevada since 1986, with eight offices in the region (Zephyr Cove, Glenbrook, Incline Village, Tahoe City, Squaw Valley, Truckee, South Lake Tahoe and Reno) and one in London, England, Chase International and its exclusive affiliations handles a large share of the country's property. A recognized leader in the world of real estate, Chase International has once again taken the reins of cutting edge technology by launching www.ChaseNation.com, the first interactive social networking website created by a real estate brokerage as a vehicle for direct interaction with consumers online.
With more than 140 professional Realtors® boasting an array of industry certifications and the highest volume per sales agent in the area, Chase International successfully represents homes at all price levels.  For more information about Chase International visit www.chaseinternational.com.