ATLANTA, GA - (October 2008) – Beacham & Company senior sales associate Nancy Meister and managing broker Dac Carver were among more than 100 business and civic leaders who served as honorary principals for Atlanta Public Schools on Oct. 28.
The program, which is a joint venture between the Metro Atlanta Chamber of Commerce and the Atlanta Public Schools, is designed to enrich school curriculums, provide role models for students and create a greater understanding of the quality and needs of the city's public schools.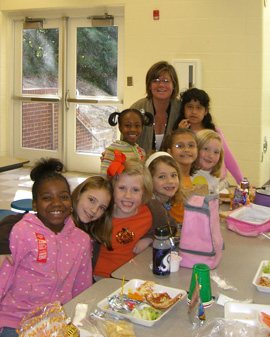 Meister served as Principal For A Day at Garden Hills Elementary in Buckhead. Garden Hills Elementary has 590 students in kindergarten through fifth grades and was the first elementary school among Atlanta's northside elementary schools to be awarded the prestigious International Baccalaureate (IB) certification for their Primary Years Program (PYP).
Meister was introduced by Garden Hills principal Amy Wilson over live video broadcast during morning announcements. Afterwards, Meister visited a music class where the students played instruments including the Congo drums and sang for her. Later, she took a timed third grade multiplication test, juggled scarves in physical education, visited with a pre-kindergarten special needs class, listened to kindergarteners sing a Halloween song, and received a presentation by challenge students on their "new product marketing" assignment. She was also interviewed by fourth graders who write for the school newspaper.
Meister, who is a Garden Hills resident and president of North Atlanta Parents of Public Schools, said her experience allowed her to see how the school's intensive curriculum has fostered excitement among the students.
"The students were so excited to show me what they are learning," Meister said. "Garden Hills Elementary has so many positive things going for it, from the incredible staff to the diversity of the student body. It really is an amazing school."
Carver was the Principal For A Day at Early College High School in southeast Atlanta near Turner Field. The Early College is one of only a handful of high schools in the state of Georgia that participates in an accelerated learning program called ACCEL that gives students the opportunity to take college courses while still in high school.
The Early College is partnered with Georgia State University, which is only a few miles from the Early College campus. Tuition is primarily funded by Georgia State University and Atlanta Public Schools through the Hope Scholarship program. Book allowances are paid by the Bill and Melinda Gates Foundation.
As part of his Principal For A Day duties, Carver joined Early College principal Marcene Thornton to greet teachers and students as they arrived in the morning. Later, he toured the four year-old campus with senior class president Derrick Standifer, conducted a question and answer session with juniors and seniors, and interviewed students who have applied for acceptance into the ACCEL program.
Carver said the students at the Early College demonstrated an immense curiosity about the world and a refreshing enthusiasm for learning.
"I spent about an hour and a half of my day in a classroom with a dozen Early College students," Carver said. "There wasn't a lull in the questioning the entire time. They asked me about real estate of course, but they also asked me about tax policies and the recent mortgage crisis and whether the federal rescue plan was the right solution.
"They also told me about their school-sponsored trips to Costa Rica and Japan and how seeing other cultures affected them.
"It was really uplifting to meet such an engaged group of teenagers who clearly are excited about their futures and what the world has in store for them."