PHILADELPHIA, PA - (October 23, 2008)—Who's Who in Luxury Real Estate (LuxuryRealEstate.com) named Unique Homes its MVP, or Most Valuable Partner, at its 13th Annual Luxury Real Estate Fall Conference in Philadelphia last week.
"For nearly eight years, Unique Homes has had the pleasure to be a strategic marketing partner with Who's Who in Luxury Real Estate and LuxuryRealEstate.com," said Nick Antonicello, director of sales for Unique Homes and UniqueHomes.com. "In that time we have worked together to develop one of the category's most successful and widely distributed private label magazines as well as an indispensable presence in products such as Elite and Ultimate Homes.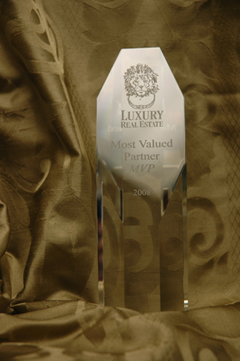 "The partnership has proved invaluable to both Unique Homes as well as Who's Who. We appreciate the opportunity to work with one of the industry's top networking real estate organizations, representing some of the most successful brands in luxury the luxury niche. I would like to thank John Brian Losh (publisher/CEO) as well as Meghan Barry (executive vice president) for that opportunity to service the network over the last decade," Antonicello said.
The awards banquet topped off a weekend of discussing strategies and reports on current market conditions. Other award recipients included:
Best Brand Integration: John Daugherty, Realtors Best Overall Marketing Package: Daniel Gale Sotheby's International Realty Most Innovative Marketing Technique: Waterfront Properties and Club Communities Best Web Site – Design: Rimontgó (www.rimontgo.es)
Best Web Site – Innovation: Chase International (www.chasenation.com)
Most Outbound Referrals: Gibson Sotheby's International Realty Best Print Marketing: Harry Norman Realtors
Best Industry Networking: Arizona Best Real Estate
Billionaires Club (Individuals selling more than $1 billion of property): Bob Melvin, Gasparilla Properties, Inc. Patricia Petersen, Daniel Gale Sotheby's International Realty Shari Chase, Chase International Cathy Jones Coburn, Slifer Smith & Frampton Real Estate Most Transactions in 2007 – Individual: Eleanor Farnsworth, Prudential Gardner Hightest $ Volume in 2007 – Company: Slifer Smith & Frampton Real Estate Highest $ Volume in 2007 – Individual: Jacky Teplitzky, Prudential Douglas Elliman
Outstanding Rookie: Michael Marquette / Simon Turner, Marquette Turner Luxury Homes Best New Community: Four Seasons Residences, Bora Bora Biggest Sale in 2007: Heather Lemon, Slifer Smith & Frampton Real Estate
Extraordinary Philanthropist: Tim Murray, Alain Pinel Realtors
Lifetime Achievement Award: Lois Schneider, Lois Schneider Realtor
The Who's Who in Luxury Real Estate network includes 1,912 of the world's finest real-estate companies with properties in 98 countries. The next LuxuryRealEstate.com event is the 4th Annual International Conference, and it will be hosted in Paris on Jan. 21-23, 2009. For more information on this upcoming event, visit www.luxuryrealestate.com/conference.