VAIL, COLORADO - (October 2008) -- Slifer Smith & Frampton Real Estate is proud to announce that Amy Dorsey was installed as the 2008-2009 President of The Colorado Association of REALTORS (CAR) 26,500-member state-wide trade association during the recent 88th annual convention in Colorado Springs. The association supports private property rights, equal housing opportunities and is the "Voice for Real Estate" in Colorado.
Dorsey is the first President from the Vail Valley in CAR's 88 year history.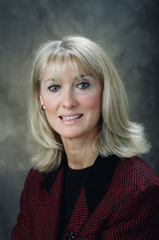 Dorsey has served the Colorado Association of REALTORS and the Vail Board of REALTORS in various volunteer capacities since 1993. Highlights of her career include Past President of the Vail Board of REALTORS (2001-2002), 2006 Mountain District Vice President of the Colorado Association of REALTORS, 2006 CARHOF Chairman and current MLS Board member at the Vail Board of REALTORS. In 2001 she received the Vail Board of REALTORS most prestigious award, REALTOR of the Year, and in 2006 she received the Distinguished Service Award from the Colorado Association of REALTORS. In addition, Dorsey has been recognized as a top broker at Slifer Smith & Frampton and received the Golden Eagle Award 2005 (top 10%) and Eagle Award 2007(top 20%).
Rod Slifer, partner and broker of record at Slifer Smith & Frampton Real Estate said, "Amy is not only an outstanding and successful real estate broker, but she has also been incredibly active in both our local board and CAR. I cannot begin to list the committees she has served on and elected positions she has held in both organizations. Her professional experience, affiliations, designations and education are outstanding. We are fortunate to have Amy's leadership and her representation of us all as professional REALTORS® to the entire State of Colorado."
Slifer Smith & Frampton Real Estate Managing Broker, Jim Flaum, describes her as "a true professional who works equally hard for her clients as well as those she represents around the state. This is a huge honor for Amy and Slifer Smith & Frampton."
A Colorado native, Dorsey began her real estate career in Vail, during the late 1970s, working for a developer. She has lived throughout the United States working in both residential and commercial real estate including Los Angeles, Texas and New York City. As a result of her husband's love of the Colorado Mountains, and her home state connection, they returned to the Vail Valley in 1993 and Dorsey began selling real estate for Vail Associates Real Estate a year before they merged with Slifer Smith & Frampton. She has been a member of the firm since that time and the Branch Broker of Slifer Smith & Frampton Park Hyatt, Beaver Creek office since 2004. In addition Dorsey holds the following designations: Certified International Property Specialist (CIPS), Masters Real Estate (MRE), Graduate of the Real Estate Institute (GRI), Certified Resort Specialist (CRS), and Resort and Second-Home Property Specialist (RSPS).
Dorsey is an advocate for affordable housing in Colorado and an avid supporter of REALTORÒ Political Action Committee (RPAC) at the state and on a national level. Locally, she serves as Bell Captain for the Salvation Army Bell Ringing Annual Campaign, contributes to Bravo! Vail Valley and many other local charities. Amy and her husband, Connie, the General Manager of Vail Plaza Hotel & Club, live in Singletree with their dogs Alex and Winnie.
Slifer Smith & Frampton Real Estate has been the most trusted name in Colorado Mountain Real Estate for more than 45 years. With offices in Eagle County and Summit County and over 130 seasoned brokers, our expertise and coverage of the market is unmatched. Slifer Smith & Frampton Real Estate is consistently chosen by people all over the globe in buying and selling real estate in the Vail Valley and Summit County.