LONDON – (Oct. 9, 2008) –
Michael Saunders
, founder & president of
Michael Saunders & Company
, today addressed the National Association of Estate Agents at their 2008 International Forum, in London, England. The N.A.E.A. (
www.naea.co.uk
) is the United Kingdom's equivalent of the U.S.'s National Association of Realtors. Following her speech she was interviewed for British television, billed as one of America's top real estate experts.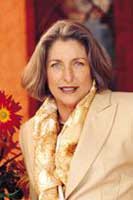 Invited to address the gathering for her general knowledge of American real estate and property marketing; but especially for her mastery of the art of international property networking, Saunders addressed the forum on the values of focused cross-border brokerage relationships at a time when real estate markets everywhere are reeling from the effects of the global housing, credit and financial crisis. The invitation to address the prestigious gathering was extended by Mayfair International Realty with whom Michael Saunders & Company has an exclusive trans-Atlantic brokerage affiliation. Mayfair International Realty (
www.MayfairInternationalRealty.com
) , headquartered in the heart of London, is comprised of 125 real estate brokerages throughout the world."The relationships formed from networking—international or otherwise—should be an essential service offered to clients and customers of any local brokerage worth its salt," she advised the assembly. "Time spent networking makes all the difference between surviving difficult times or succumbing to them; between prospering in business or being driven out of it."London was the third stop on an international tour that saw Saunders spend much of the summer shuttling between various European capitals spreading the news of the best buyers' market Florida has experienced in years. Her message, targeted to the top European brokerages, did not fall on disinterested ears. With their purchasing power heightened by strong currencies and uncharacteristically low housing prices in Florida, Foreign buyers continue to regard America as one of the safest and best places to invest in real estate despite our challenging economic times.Saunders no sooner returns to Sarasota from London than she is off to Bermuda to participate in a global real estate conference hosted by Christie's Great Estates, with whom Michael Saunders & Company has the exclusive network affiliation for Southwest Florida. Christie's Great Estates (
www.ChristiesGreatEstates.com
) is an international network of independent real estate brokers, linked with the historic Christie's Auction House. Membership is by invitation only and properties listed are at least $ 2 million.Michael Saunders & Company also maintains international brokerage relationships with EREN—The European Real Estate Network (
www.EuropeanRealEstate.org
); Leading Real Estate Companies Of The World (
www.LeadingRE.com
), of which Saunders just completed three years as Chairman of the Board; Luxury Real Estate Regents (
www.Regents.com
) and the Luxury Real Estate Network (
www.LuxuryRealEstate.com
).
About Michael Saunders & Company
Now in its fourth decade of service to Southwest Florida, Michael Saunders & Company has grown from a single small office into a network of 16 full-service offices—with more than 500 professionally trained associates and 200 staff members. Powerful world-wide affiliations—including Leading Real Estate Companies of the World, Luxury Portfolio, Christie's Great Estates, the European Real Estate Network (EREN) and Mayfair International Realty extend the company's message to qualified buyers globally, ensuring the broadest possible exposure for our properties.Michael Saunders & Company is ranked as the 75th largest brokerage in the nation in the 2008 Power Broker Report compiled by RIS Media, the and is included among the 35 most influential Realtors in luxury real estate.Customers of Michael Saunders & Company are assured of a comprehensive array of real estate services that will address every need and exceed all expectations. These services include commercial sales and leasing through the company's Commercial Division, along with mortgage loan origination and full title and closing services. MSC Mortgage provides a full array of mortgage products through its partner, Wells Fargo Home Mortgage; while the expert team at MSC Title includes title examiners, processors, and closers dedicated to building on the reputation of Michael Saunders & Company for unequalled service and solutions. Backed by the underwriting strength of First American Title and Chicago title, MSC Title provides peace of mind by assuring that a buyer's new property is free of liens and title defects. The award-winning MSC Relocation Division provides corporations with a wide range of relocation services to smooth the transition and assure immediate employee productivity in the new environment.At Michael Saunders & Company, ours is a company-wide commitment to enrich the lives and culture of the communities we serve. Each year, the company makes significant contributions to more than 75 charitable, educational and cultural institutions throughout the region. These include Boys & Girls Clubs of Sarasota, Junior Achievement, Child Protection Center, The Dyslexia Foundation, Florida Studio Theater, Mote Marine Laboratory, Westcoast Black Theater Troupe, Manatee County Schools Foundation, Manatee Community College, University of South Florida Foundation, Education Foundation of Sarasota County, Marie Selby Botanical Gardens and the Community Foundation of Sarasota.For more information about Michael Saunders & Company, please call 1-888-552-5228 or visit us on the Web at
www.MichaelSaunders.com
.