SAN FRANCISCO – (Oct. 9, 2008) –
The "YouTube" age is truly upon us, permeating even the hallowed halls of
Hill & Co. Real Estate
, one of San Francisco's oldest and most esteemed independent real estate companies.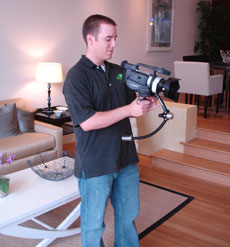 Hill & Co. has engaged with a local videographer to produce videos promoting its properties and agents. The videos are then posted on the Hill & Co. Web site, on individual agent Web sites and on Web sites built exclusively to promote specific properties. Emails with links to these pages can also be sent to interested parties."The production values are fabulous," said Jay Costello, President of Hill & Co. "These videos are light years ahead of virtual tours, considered just a few short years ago to be cutting edge."Videos have the advantage of combining music and narration with the visual imagery for a more satisfying user experience. As bandwidth has expanded into the home, video has become more and more commonplace on the Web. Yet its use in real estate has been limited, largely because the quality of the videos themselves has been unacceptable.Videographer Tim Kent, with MadeGreen, has taken advantage of advances in camera technologies to devise a process that results in professional grade videos."Online, we can present our homes both locally and globally," said Garey De Martini, Director of Marketing at Hill & Co. "And now, these videos enable us to present homes in an even more compelling way."To see an example of how these videos look, visit
www.hill-co.com/video/jackson
.
Hill & Co.
Founded in 1956, Hill & Co. Real Estate is a San Francisco brokerage long associated with the City's finest properties. With three offices and nearly 100 full-time agents, the company enables clients to successfully navigate San Francisco's complex real estate market. Two additional Hill & Co. offices provide property management and rental services. For more information, visit
www.hill-co.com
.