SAVANNAH, Ga. – (Oct. 6, 2008) –
Have you ever wondered what you could do for the environment? Well
Joan Sumner
, a sales associate with
Cora Bett Thomas Realty
, had, and Mayor Otis Jackson came up with a great idea that was easy for the whole community and would help Savannah become a more Bicycle Friendly Community.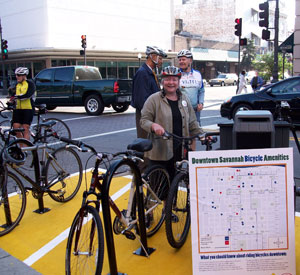 Friday, October 3 was the first Dump the Pump Convoy, a group bike commute with two groups leaving from Baldwin Park and Habersham Village. Both groups joined together on Lincoln Street and rode the rest of the way together to open the new bike racks at the corner of Bull and Broughton.Sumner loved the idea of leaving her car parked in the driveway and riding with her fellow neighbors. There was just one problem; Joan doesn't own a bike. She sent an email to her neighbors letting them know about the ride and her need for two wheels. Once her son adjusted the seat of her loaner bike and brought her a helmet Joan was ready to ride."It was a great way to start the morning, get in some exercise, and enjoy the beautiful weather," Sumner said. "I have always wanted to do more for the environment and this was a great way to get involved. I look forward to participating in future Dump the Pump Convoys."
ABOUT CORA BETT THOMAS REALTY
With listings for the area's finest residential and commercial properties, Cora Bett Thomas Realty & Associates, is an exclusive affiliate of Christie's Great Estates and Mayfair International Realty and a longtime member of
Who's Who in Luxury Real Estate
,
The Board of Regents
, Luxury Portfolio, Leading Real Estate Companies of the World (formerly RELO). The firm dominates the luxury real estate market along the Georgia and South Carolina coast, with offices based in Savannah, Ga. and Bluffton and Beaufort, S.C. Under the leadership of founder and CEO Cora Bett Thomas, the company features an expert team of agents who specialize in historic homes, luxury condominiums, commercial real estate, investment property, land and waterfront property. For additional information, please visit
www.CoraBettThomas.com
online or call 912.233.6000.