Olympic Medalist Returns Home from China, Joins Coldwell Banker Gold Coast
Posted by Alex Caraco — August 25, 2008
GOLD COAST, Queensland – (Aug. 26, 2008) –
Blair & Jay Carter,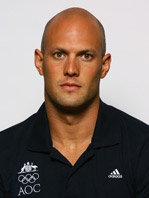 franchisees from
Coldwell Banker Property Australia
on the Gold Coast, Australia have recruited Ashley Callus, the AUSTRALIAN BEIJING OLYMPIAN, as seen on 60 Minutes.
Click here
to see the story, zoom to 13:10 into the segment manually to hear and see the section on Ashley.Ashley says he is delighted to join Coldwell Banker, a real-estate company that has been in business since 1906 and has 4,000 offices in 51 countries around the globe. Coldwell Banker is represented by nine offices on the Gold Coast Queensland, Australia from Kirra in the south to Hope Island in the north.Coldwell Banker sells more million-dollar homes than any other company around the globe and, at the same time, sells properties from $250,000 to $15 million on the Gold Coast. For more information, visit
www.coldwellbankeraustralia.com.au
.