Michael Saunders Addresses High-Level Conference of Spanish Real-Estate Investors
Posted by Tom Heatherman — July 29, 2008
MADRID, Spain – (July 30, 2008) –
Most Americans jetting to Spain this time of the year are of the tourist variety. Not so Michael Saunders, founder and president
of Michael Saunders & Company
, who was summoned to the capital city of Madrid to impress a high-level conference of Spanish real estate investors that Florida is still extremely open to Spanish exploration.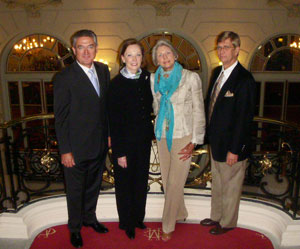 Saunders was the featured presenter—along with Diane Ramirez of New York City's Halstead Properties—at three sessions organized by Inmobiliaria Rimontgo, the prestigious Spanish real estate company headquartered in Valencia, Spain. Michael Saunders & Company and Halstead Properties are the only two American members of the esteemed European Real Estate Network—or EREN—of which
Inmobiliaria Rimontgo
is a longstanding member along with 19 other prestigious European real estate companies.The conference, set up to spotlight the extraordinary investment opportunities now available in residential and commercial properties in Florida and New York, was facilitated by José Ribes Bas, the director of Inmobiliaria Rimontgo, and took place in the magnificent landmark edifice of Madrid's 170-year-old Casino de Madrid."Moments like this are when the best-informed international players take advantage of the economic climate in the U.S.," Señor Ribes Bas said in his opening remarks. "Those who take the first step will be in the pole position when the others finally react. When the global economy takes off again and the U.S. real estate market experiences new growth, Euro investments will turn into excellent US. Dollar investments."In addition to Saunders and Ramirez, presenters at the conference included Xavier Ruiz, Partner and Director of Garriques in New York—an important provider of multinational services to Spanish companies who conduct business in the U.S.—and Dennis Dahm, director of the commercial property division of Michael Saunders & Company. Ruiz explained the tax and legal differences between real estate investments in the U.S. versus Spain, while Dahm presented an impressive portfolio of 130 commercial properties possessing a global value of $800 million."This event could not have been more perfectly timed," Saunders said upon her return to Sarasota. "The favorable exchange rates over there, coupled with the tremendous values over here, have turned a steady trickle of international buyers into a stream. They're flocking to our Web site like never before, strolling into our offices intent upon buying, and not leaving town until they do. The individuals we presented to at three separate sessions in Madrid were high net-worth individual and institutional buyers who were there to explore all opportunities in both commercial and residential properties. Prior to our presentation, they judged the entire state of Florida by their cursory knowledge of Miami. Needless-to-say, it was a real pleasure to put Sarasota and the West Coast of Florida front and center on their radar screens."Saunders will reprise her role as Sarasota's most passionate advocate when she is the featured speaker at the International Forum of the National Association of Estate Agents (NAEA) in London—in October—for which she is being billed as a top U.S. property expert and will share the spotlight with celebrity guest speaker, actor James Caan. The NAEA is the U.K.'s equivalent of the U.S.'s National Association of Realtors. As well, she will attend the Leading Real Estate Companies of the World's International Symposium in Rome—in September—where she will be greeted as immediate past chairman of the organization's board of directors. This past spring marked the end of Ms. Saunders' three year tenure as Chairman of the Board for the prestigious global network of nearly 700 top real estate firms with 5,500 offices in 38 countries around the world.