The Beacham Series Wins Top Award From Printing & Imaging Association of Georgia
Posted by Dac Carver — July 23, 2008
SMYRNA, Ga. – (July 24, 2008) –
The Printing & Imaging Association of Georgia (PIAG) recently awarded
The Beacham Series
as the Best of Category winner in the association's statewide Print Excellence Competition.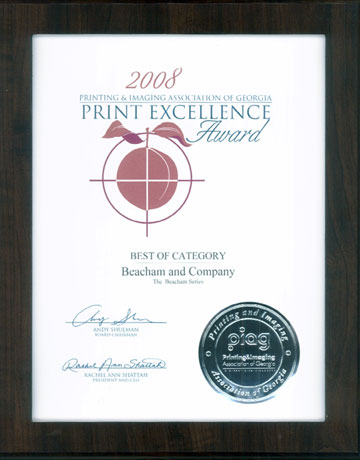 The announcement was made during PIAG's 2008 Celebration of Print Gala, held at the Renaissance Waverly Hotel in Atlanta with more than 500 industry professionals in attendance. PIAG's Print Excellence Competition is the largest state printing competition in the nation. This year, it attracted 1,135 entries from 54 printing and imaging companies in Georgia.A panel of three judges with extensive experience in printing and print production was brought in to examine the work. Each entry was judged on its own merit in a category with similar printed pieces. The judging criteria included: registration, clarity and neatness, sharpness of halftones and line drawings, richness and tonal qualities of color, paper and ink selection, ink coverage, difficulty of printing, effective contrast or softness, overall visual impact and bindery.PIAG is a 450-plus-member trade association headquartered in Smyrna, Georgia representing the state's largest manufacturing industry, comprised of 832 companies and 24,326 employees. The association is affiliated with the world's largest graphic arts trade association, Printing Industries of America / Graphic Arts Technical Foundation.
The Beacham Series
is a publication of
Beacham & Company, Realtors®
, a Buckhead-based company that specializes in luxury real estate sales. The magazine is published three times per year and has a distribution of 25,000, including the most affluent households in Atlanta as well as top real estate brokerage companies around the world.