Harry Norman, Realtors® Participates in Vietnam Memorial Wall Event
Posted by Alisa Bennett-Hart — July 20, 2008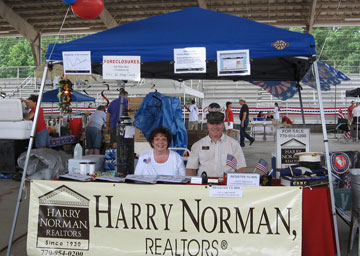 ATLANTA – (July 21, 2008) –
Harry Norman, Realtors®
on the Square in McDonough office were invited participants in the recent City of McDonough's welcome to the Vietnam Traveling Memorial Wall. The event was held in Heritage Park.Harry Norman, Realtors® on the Square in McDonough office had the distinction of being the only Realtor asked to participate in the event, which included giveaways of bottled water, balloons, drawing for gas cards and a Rotary Club Scavenger Hunt from a patriotic-themed tent. Approximately 5,000 veterans, family and friends attended the event to honor the Vietnam Veterans who made the ultimate sacrifice.
About Harry Norman, Realtors®
Founded in 1930, Harry Norman, Realtors® is Atlanta's oldest residential real estate firm with 20 offices and over 1,000 sales associates. Harry Norman, Realtors® is a wholly-owned subsidiary of HomeServices of America, Inc., a Berkshire Hathaway affiliate. HomeServices is the second-largest full-service independent residential real estate brokerage firm in the U.S. Through its affiliation with HomeServices of America, Harry Norman, Realtors® is part of a real estate family of 20,000 sales associates spanning 19 states. Harry Norman, Realtors® also achieves international exposure through membership in such exclusive real estate networks as Leading Real Estate Companies of the WorldTM the largest network of independent residential real estate firms, with 650 members representing 4,700 office and 120,000 associates across the U.S. and in over 20 countries. For additional information, visit
www.harrynorman.com
.