Harry Norman, Realtors® Sponsors Event to Honor Atlanta Mayor
Posted by Alisa Bennett-Hart — July 15, 2008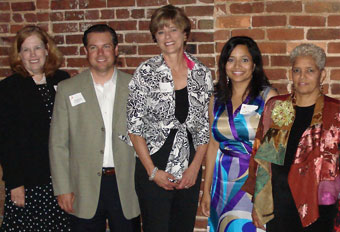 ATLANTA – (July 16, 2008) –
Harry Norman, Realtors®
served as a sponsor of the recent Odyssey Family Counseling Center's Rhythm & Blooms benefit honoring Atlanta Mayor Shirley Franklin for her "Dear John" program to end the commercial sexual exploitation of children in Atlanta.Odyssey's Child & Adolescent Services helps over 1,200 children annually heal from the consequences of rape, domestic violence, sexual/physical abuse and substance abuse. Funds raised at the Rhythm & Blooms event ensure that children in need will continue to have access to these vital services – regardless of income level or insurance status.
About Harry Norman, Realtors®
Founded in 1930, Harry Norman, Realtors® is Atlanta's oldest residential real estate firm with 20 offices and over 1,000 sales associates. Harry Norman, Realtors® is a wholly-owned subsidiary of HomeServices of America, Inc., a Berkshire Hathaway affiliate. HomeServices is the second-largest full-service independent residential real estate brokerage firm in the U.S. Through its affiliation with HomeServices of America, Harry Norman, Realtors® is part of a real estate family of 20,000 sales associates spanning 19 states. Harry Norman, Realtors® also achieves international exposure through membership in such exclusive real estate networks as Leading Real Estate Companies of the WorldTM the largest network of independent residential real estate firms, with 650 members representing 4,700 office and 120,000 associates across the U.S. and in over 20 countries. For additional information, visit
www.harrynorman.com
.