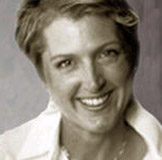 San Francisco, CA – November 17, 2009 – Kim Barnes, a local realtor with Hill & Co Real Estate, received special recognition during a tree planting ceremony in Lafayette Park on Saturday, November 7. In attendance were park volunteers, Pacific Heights neighbors, students, and San Francisco Recreation and Parks Department executives.
Ms. Barnes was presented with a Certificate of Honor from the San Francisco Board of Supervisors. She was recognized for the enthusiasm and creativity she demonstrated while helping to make Lafayette Park a safer, cleaner, and more beautiful park – one that everyone can now enjoy. Ms. Barnes was also awarded the Mayor's Certificate of Honor for her efforts.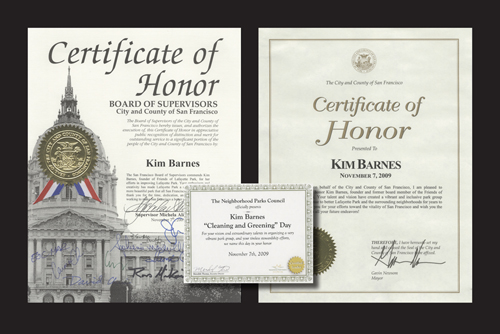 While addressing those in attendance, San Francisco Recreation and Parks General Manager Philip A Ginsburg said, "For many years neighbors of Lafayette Park were eager to see their park volunteer efforts grow. Five years ago, Kim Barnes put her heart and soul into creating a vibrant, active, and effective Friends of Lafayette Park organization. Through Kim's energetic efforts and positive collaboration with SFRPD, Friends of Lafayette Park has been instrumental in helping the SFRPD beautify the park's entrances and hillsides."
The Neighborhood Parks Council (NPC) deemed November 7, "Kim Barnes Cleaning and Greening Day". San Francisco Parks Trust also recognized Ms. Barnes' leadership and community service as President of Friends of Lafayette Park. The organization applauded the way in which she has brought neighbors and local institutions together. And lastly, Friends of Alta Plaza Park recognized her further contributions in helping to launch Alta Plaza Park Volunteers.
Hill & Co.
Founded in 1956, Hill & Co. Real Estate is a San Francisco brokerage long associated with the City's finest properties. With four offices and nearly 100 full-time agents, the company enables clients to successfully navigate San Francisco's complex real estate market. Two additional Hill & Co. offices provide property management and rental services. For more information, visit www.hill-co.com.