Judy Arreola Rejoins MS&C After 23 Years. Is Accompanied
In The Move By Business Partner, Kristina Talkie.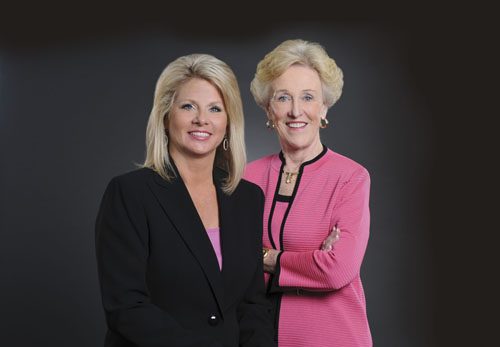 SARASOTA, Florida—(November 13, 2009)—Judy Arreola (right), a top-producing real estate agent with Mount Vernon ERA Realty—which was acquired by and became Hunt Real Estate ERA in 2007—has returned to Michael Saunders & Company after 23 years. Kristina Talkie (left), Arreola's business partner since 2007, is joining her in the move. The team of Arreola/Talkie is now located in the company's Siesta Key office, managed by Debbie Judge.
In addition to being a licensed real estate broker, Judy Arreola's professional credentials include Graduate REALTOR® Institute (GRI), Leadership Training Graduate (LTG) and Certified Residential Specialist (CRS). She has served on the Board of Directors of the Sarasota Association of REALTORS®, and been Chairman of both its Education and Professional Standards Committees. Presently she sits on the Professional Standards Committee.
"Judy's is a most wonderful and fitting homecoming," said company founder and CEO Michael Saunders from her office in downtown Sarasota. "She was a vital force in the business when she first joined us and has been a top-producing agent ever since. The years do not alter one's values or change a true professional's passion for the business. Nor do they erode the commitment to customer service and personal excellence that Judy has always stood for. If anything, time makes them stronger and more enduring. Needless-to-say, we are absolutely thrilled to have Judy back where she belongs, and equally delighted to welcome for the first time her exceptionally talented business partner, Kristina Talkie."
Judy Arreola entered the real estate business in 1984. Since then, she has become one of the top ERA Realtors in the nation and consistently ranks among the top 1% of REALTORS® in Sarasota.
While at ERA she was honored with the Jim Jackson Award, the highest award given for outstanding customer service and superior performance nationwide. Each year, Judy has been invited to ERABeyond Excellence—a conference for top-producing associates and brokers—and been awarded the Leadership Team Award for top performance nationwide. She was one of the original 13 agents to start with Mount Vernon Realty when it made its debut in Sarasota. More recently she has been chosen for four consecutive years by Sarasota Magazine to receive its 5-Star Best in Customer Satisfaction Award.
Kristina Talkie, a native of Joliet Illinois, received her real estate license in 2003 and has extensive experience in new construction. Her real estate designations include Graduate REALTOR® Institute(GRI); andindustry awards include Top Producer, ERA Beyond Excellence, Outstanding Sales Performance (six years in a row) and Top Team Award for closed sales. She is presently a candidate for Certified Residential Specialist (CRS) and, together with Judy, specializes in selling waterfront homes, golf course communities and luxury condominiums.
Prior to becoming a real estate agent, Arreola was a former school teacher who came to Sarasota from Venezuela after residing in Rochester, N.Y. and California. While in Venezuela, she started the first English-speaking kindergarten in her area. Later, after personally meeting Mother Teresa, she donated her equipment and started a school for needy children in the barrios. Along with her husband John, an executive with an American company in Venezuela, she returned to Sarasota where they raised their two sons and have resided in The Country Club of Sarasota for the past twenty-five years.
Ms. Talkie is married to Jim and has two sons. Trevor, a senior, is a basketball player at Sarasota Christian School. Grant, a football player, is a sophomore at Cardinal Mooney High School.
The Arreola/Talkie team is headquartered in the Siesta Key office of Michael Saunders & Company, located at 5100 Ocean Boulevard, on Siesta Key.
Judy Arreola can be reached by calling (941) 349-3444, or by email at JudyArreola@michaelsaunders.com. Kristina Talkie can be reached by calling (941) 266-8658, or by email at KristinaTalkie@michaelsaunders.com.
About Michael Saunders & Company:
Now in its fourth decade of service to Southwest Florida, Michael Saunders & Company has grown from a single small office into a network of 17 full-service offices—with more than 500 professionally trained associates and 150 staff members. Powerful world-wide affiliations—including Leading Real Estate Companies of the World, Luxury Portfolio, Christie's Great Estates, the European Real Estate Network (EREN) and Mayfair International Realty extend the company's message to qualified buyers globally, ensuring the broadest possible exposure for our properties.
Michael Saunders & Company is ranked as the 73rd largest brokerage in the nation in the 2009 Power Broker Report compiled by RIS Media, the and is included among the 35 most influential Realtors in luxury real estate.
Customers of Michael Saunders & Company are assured of a comprehensive array of real estate services that will address every need. These services include commercial sales and leasing through the company's Commercial Division, along with mortgage loan origination and full title and closing services. MSC Mortgage provides a full array of mortgage products through its partner, Wells Fargo Home Mortgage; while the expert team at MSC Title includes title examiners, processors, and closers dedicated to building on the reputation of Michael Saunders & Company for unequalled service and solutions. Backed by the underwriting strength of First American Title and Chicago title, MSC Title provides peace of mind by assuring that a buyer's new property is free of liens and title defects. The award-winning MSC Relocation Division provides corporations with a wide range of relocation services to smooth the transition and assure immediate employee productivity in the new environment. MSC Assets Management Division, the company's newest, is specifically structured to help lenders and community bank successfully market and sell REO (Real Estate Owned) properties.
For more information about Michael Saunders & Company, please call 1-888-552-5228 or visit us on the Web at MichaelSaunders.com.