SEATTLE – (November 6, 2009) – Hall of Fame third baseman Mike Schmidt of the Philadelphia Phillies has recently listed his home on the market in the Admirals Cove Golf and Yacht Club in Jupiter, Florida. Schmidt purchased the home in 1991, two years after playing his last major league game. After 18 seasons with the Phillies, 10 winning seasons and 9 Golden Glove awards Mike Schmidt is ranked as the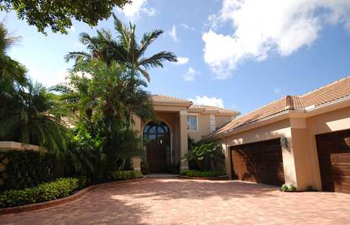 number one best Phillies player of all time according to PhilliesNation.com. With 548 career homers, Schmidt is No. 14 on the all time list of the top Major League homerun hitters.
The 8,500 square foot home has recently undergone renovations and is on the market for $4.5 million. Renovations include crown moldings, stone and wood floors, brand new kitchen appliances, butler's pantry and wet bar, master suite w/ his/hers baths, exercise room, marble counters & floors.
Rob Thomson, of Waterfront Properties won the listing. Thomson says Schmidt and his family love the Admiral Cove community and are looking for a more suitable home within the community. "They just want a change," says Thomson, of Waterfront Properties. "The house was perfect for them and their two children. Now the kids are gone, they want something that fits their lifestyle."
"Rob Thomson and Waterfront Properties are an important part of our global network, and I am pleased to hear that Rob is representing Mike Schmidt on the sale of his Jupiter Home," said John Brian Losh, CEO and publisher of LuxuryRealEstate.com, and CEO, chairman and broker of Ewing & Clark, Inc., Seattle's oldest real-estate brokerage.
Visit Schmidt's home by clicking here courtesy of Waterfront Properties. For more information about the property contact Rob Thomson, Managing Partner of Waterfront Properties & Club Communities (561) 746-7272. Waterfront Properties is a member of the Board of Regents, the governing body of Luxury Real Estate. For more information on the Board of Regents, visit www.Regents.com.
About the Luxury Real Estate Board of Regents The Board of Regents is an exclusive network of the world's most elite luxury real estate brokers, comprised of the most legendary names in the industry selected by Luxury Real Estate CEO John Brian Losh. The Board of Regents is the governing body of Who's Who in Luxury Real Estate, the worldwide network of luxury real estate brokerage firms. Members of the Board of Regents are marketing experts, providing innovation and unparalleled service to their clients. For more information, visit www.LuxuryRealEstate.com or www.Regents.com.