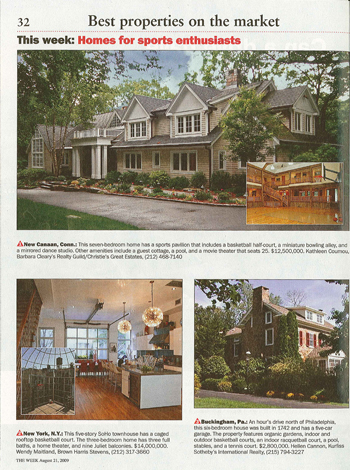 In case you missed it, the Realty Guild's listing 'The Gathering Place,' was featured in the current issue of The Week magazine, a national publication that has a circulation over 500,000 (depicted on the page below left, top property). The Gathering Place, the magical family compound in New Canaan, was featured as the Wall Street Journal's 'House of the Day,' which you can see by clicking here.
It's the second major national publication to feature 'The Gathering Place,' coming on the heels of The Week magazine's article on it as one of the 'Best Properties on the Market: Homes for Sports Enthusiasts.' The magazine is one of the few national publications to devote editorial pages showcasing top properties across the U.S., and it's the second time it has featured a New Canaan home listed with the Realty Guild. The WSJ also did a great job of capturing the spirit of the property. Titling the feature, "A Place to Play in New Canaan," it showed off, in its 13 photos, the main house, separate sport house, pool and trout pond setting, and the cabana. It said of the award winning sport barn, 'Built to lure the owner's grandchildren, the 10,000-plus square-foot sports barn on this Connecticut property is bigger than the main house.'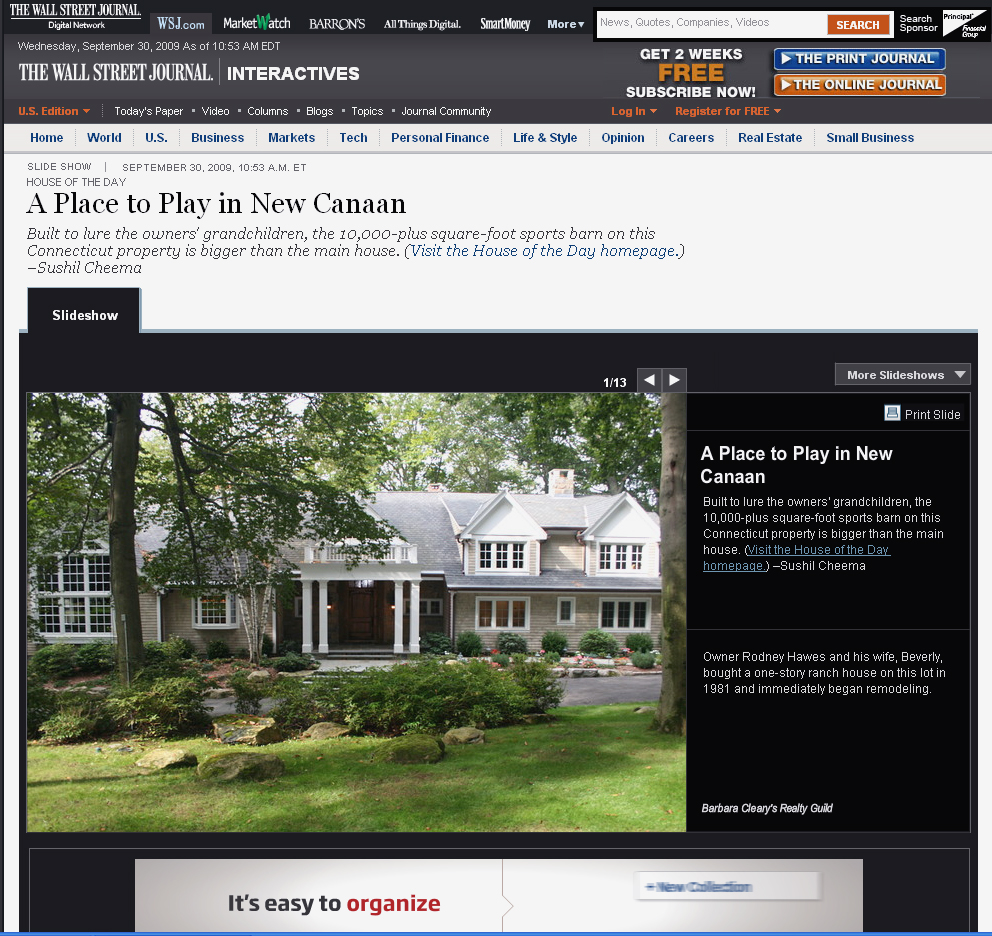 The Gathering Place's selection as one of the nation's 'Best Properties on the Market: Homes for Sports enthusiasts' reflects the unique amenities the property has. Along with a main house that boasts six bedrooms, six full and two half baths, there is a separate, 10,600 sq ft. "Sports Barn," where a sports enthusiast can enjoy an NBA quality half basketball court, a state-of-the-art golf simulator room, a children's bowling alley, and a movie theater where 30 sports buddies can relax in tiered, plush seating to catch the big game.
The house also boasts a guest cottage, heated pool, pool spa and trout pond.
It's worth noting that there were a few major family compounds on the market in the U.S. that were not selected, particularly Country Singer Alan Jackson's home in Franklin, Tennessee, known as Sweetbriar, that is currently for sale for $38,000,000.
For more photos and info on The Gathering Place, go to TheGatheringPlaceCT.com