62 Sales Associates from Coach Realtors Earn
Certified Home Marketing Specialist Designation
Amid national attention to the real estate market, 62 real estate professionals of Coach Realtors acquired new skills to decrease market time and maximize selling prices. Eager to develop a new approach for timely, efficient home sales, the sales agents attended the nationally renowned Certified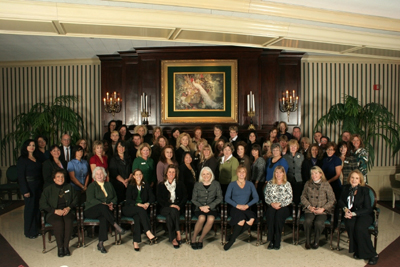 Home Marketing Specialist Course created by Martha Webb on October 16th at the Huntington Crescent Club.
Addressing in-depth market analysis, strategic pricing and effective home staging, the Certified Home Marketing Specialist Course provides agents with much expertise to excel in today's competitive real estate environment. The result? Homes sell faster at better prices — in any market.
Ms. Webb, author and producer of Dress Your House for Success and one of the country's foremost authorities on home staging, has taught her proprietary system for increased sales and maximum profit to thousands of real estate agents nationwide.
"This course is a must for any agent who wants to provide the best service possible," says Mrs. Webb. "Having this certification means a real estate sales agent can offer his or her clients a level of expertise that you just don't learn in standard classes".
"Strategic pricing is key to moving properties quickly in any market. Add staging to the equation and you have the enviable position of being able to give buyers a true feeling for what it would be like to live there while sellers get the benefit of faster sales at the best price possible."
A phenomenon that's swept the real estate industry over the past several years, home staging has increasingly become an integral component of any successful home sale. Real estate agents who have completed the Certified Home Marketing Specialist course offer clients concrete, market-specific guidance to position properties to make a direct emotional connection with potential buyers.
"We talk a lot about 'buyer's' markets and 'seller's' markets, but what it all boils down to is knowing how to effectively reach out to home buyers regardless of the market," says Georgianna F. Finn, owner and broker of Coach Realtors. "The Certified Home Marketing Specialist Course gives agents those skills."