Houston, TX – John Daugherty Realtor's Sharon Dreyer, top producer, was honored at the 8th Annual Nancy Owens Memorial Foundation Luncheon, Tuesday, October 6th at the Westin Galleria.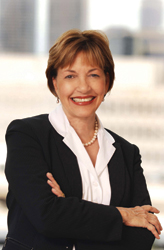 First diagnosed with breast cancer in October of 2002, and later re-diagnosed in October of 2008, Dreyer is a true role model of courage in the face of adversity.
"I am so humbled by this award," said Dreyer. "Nancy Owens was a dear friend of mine, and one of my inspirations for becoming a Realtor."
While she continued to work throughout her treatments, she said that it was very important for her to keep her life as close to normal as possible during that time. From her personal experiences, she wants nothing more than to be able to educate other women regarding the opportunity for early diagnosis through diligent self-examination, annual exams and mammograms.
Sharon describes herself as a cat with nine lives. She has successfully fought off two bouts with breast cancer, and has survived not one, but two harrowing plane crashes as a former flight attendant.
"When I look for my inspiration and hope, I look at the breast cancer survivors who came before me," said Dreyer. "Being a survivor teaches you a lot about life and human nature, and above all gives you the strength to handle whatever may come across your path."
Dreyer said she draws her tremendous strength from her mother, and has incredible support from her husband Lance, their four children, friends, family and the real estate community.
"We are so pleased to honor Sharon, she is truly inspirational and courageous," said John A. Daugherty, Jr. president of John Daugherty, Realtors.
About John Daugherty, Realtors
John A. Daugherty Jr., a fourth-generation Houstonian, founded John Daugherty, Realtors on March 8, 1967 and has served as its president and CEO ever since. In 2007, the firm reached $9 billion in total property sales and sale pendings since the millennium (2000). John Daugherty, Realtors is the largest seller of upscale residential real estate in the Greater Houston area, currently employing 155 real-estate agents and 52 support-staff members.