Committed to growth in Chicago and Surrounding Markets, Koenig & Strey Now Part of Nation's Second-Largest Independent Residential Real Estate Brokerage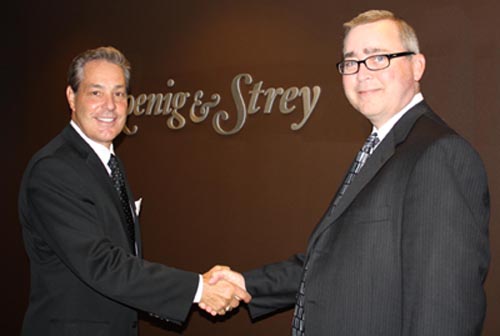 MINNEAPOLIS (Sept. 1, 2009) – HomeServices of America, Inc., a Berkshire Hathaway affiliate (www.homeservices.com), today announced the acquisition of Chicago-based Koenig & Strey GMAC Real Estate (www.ksgmac.com) from Brookfield Residential Property Services (http://www.brookfieldrps.com). Koenig & Strey is one of Chicago's largest and most respected residential real estate brokerage firms. Under the new ownership structure, Koenig & Strey will retain its name and become a franchisee within Brookfield Residential Property Services' North American real estate network of almost 30,000 real estate professionals.
HomeServices is the nation's second-largest full-service independent residential real estate brokerage firm, and the largest brokerage-owned settlement services (mortgage, title, escrow and insurance) provider. Terms of the deal were not disclosed.
Founded in 1961, Koenig & Strey has approximately 900 agents throughout 21 offices serving Chicago, the North Shore, Lake County and the western suburbs, and is a leader in sales of luxury homes among the top general brokerage firms in the Chicago area. In 2008, the company's sales were $2.6 billion.
The acquisition is the 21st for HomeServices, which now has more than 15,000 real estate professionals and 21 companies operating in 20 states. The HomeServices acquisition model focuses on market-leaders such as Koenig & Strey, with long-standing traditions for excellence.
"Koenig & Strey is a respected company, with an excellent reputation and long-term ties to the community," said Ron Peltier, chairman & CEO of HomeServices. "This transaction exemplifies our vision of acquiring distinguished companies that share our core values, strengthening those brands through our affiliation, and giving the people who built them the freedom to operate in the local markets they know best."
"This transaction makes one of the premier firms within the Chicago area into an even stronger organization" adds Doug Ayers, president and CEO of Koenig & Strey. "By joining forces with HomeServices, we will be unmatched in our ability to serve the real estate and corporate relocation needs of new and existing clients in the Chicago area."
"Our business model is not centered on a single brand, but rather an ever-expanding family of affiliate companies," concludes Peltier. "We are delighted to be in Chicago, and continue to look for additional opportunities, both here and throughout other major markets in the United States."
About HomeServices of America HomeServices of America, Inc., based in Minneapolis, Minn., is the second-largest homeownership service provider in the United States. Owned by MidAmerican Energy Holdings Company, an affiliate of Berkshire Hathaway Inc., HomeServices' operating companies offer integrated real estate services, including brokerage services, mortgage originations, title and closing services, property and casualty insurance, home warranties and other homeownership services. HomeServices Relocation, LLC is the full-service relocation arm of HomeServices of America which provides every aspect of domestic and international relocation to corporations around the world. HomeServices operates in 20 states under the following residential real estate brand names: Carol Jones REALTORS; CBSHOME Real Estate; Champion Realty Inc.; Edina Realty; EWM REALTORS; Harry Norman, REALTORS; HOME Real Estate; Huff Realty; Iowa Realty; Koenig & Strey GMAC Real Estate; Long Companies; Prudential California Realty; Prudential Carolinas Realty; Prudential First Realty; Prudential York Simpson Underwood; RealtySouth; Rector-Hayden REALTORS; Reece & Nichols; Roberts Brothers Inc.; Semonin REALTORS and Woods Bros. Realty. Information about HomeServices and the locations of its subsidiary companies is available at www.homeservices.com. About Koenig & Strey
Koenig & Strey GMAC Real Estate (www.ksgmac.com) has approximately 900 sales associates, throughout 21 offices, serving the communities in Chicago, the North Shore, Lake County and the western suburbs. Koenig & Strey is the exclusive Chicago affiliate of Christie's Great Estates, the largest network of luxury independent real estate firms in the world.