Gulf Coast International Properties Announces a Historical Sale in Southwest Florida
Posted by Brad Johnson — August 13, 2009
The Captain's Quarters – Port Royal - Naples, Florida - $14,135,000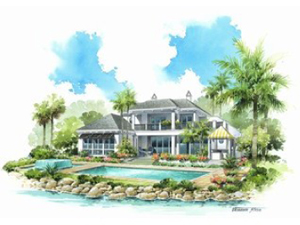 The brokerage of Gulf Coast International Properties is proud to announce one of the largest new construction single lot home sales in Southwest Florida at $14,135,000 million. Tim and Pete Savage brokered the record-setting deal in Naples, Florida for this stunning home located at 3900 Rum Row in Port Royal. This sale represents what has been an outstanding summer season for GCIP, a boutique real estate brokerage focused on Naples' super luxury market. For more information on GCIP or our properties, please visit us online anytime at www.gcipnaples.com.
More on The Captain's Quarters/ 3900 Rum Row/ Port Royal / Naples, Florida:
Absolutely STUNNING views from this incredible new home. Infused with the architectural flare of the British West Indies, Jeff Harrell has brought the romance of the islands to the shores of Port Royal. Designed with an understated elegance in mind, and decorated to enhance the home's open floor plan. Highlights include, gated entry to motor court, 4 car garage, all block construction, fully furnished, concrete floating dock, gracious loggias with retractable screens and shutters, cabana and an incredible pool/spa. The Captain's Quarters. Penned by Harrell & Co. Architects, built by BCB Homes, decorated and furnished by Godfrey Design Consultants, Inc. and masterfully harmonized by Alan Fraser Homes Corp.