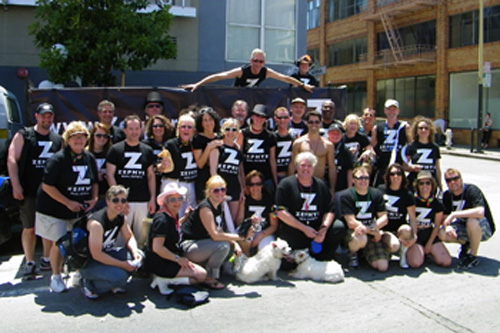 San Francisco, CA – July 22, 2009 – Zephyr Real Estate, San Francisco's largest independent real estate firm, was honored to have participated in the annual San Francisco Pride Parade for the first time in its history. "We have been in the City for over 30 years and have always been staunch supporters of our community, but this is the first time we marched in the Pride Parade. It was the next natural step for us," said Bill Drypolcher, President of Zephyr Real Estate. "I am so proud of the dedication and enthusiasm of our agents who worked tirelessly to bring this together," he added.
Zephyr's parade contingent included more than 30 agents, along with friends and family, dancing on and marching alongside their two floats. John LePage, Zephyr real estate agent and noted DJ, was spinning a great mix of energetic music. The contingent was organized by a very dedicated team of agents, including Tom Baumgartner, Doug Carpenter, Michelle Stephens and Ron Whitney.
"When I would look back and see our spirited contingent heading down Market Street, dancing to the music and demonstrating our support for the LGBT community and San Francisco, the pride I felt for Zephyr and my colleagues was tremendous. That day truly solidified in my mind what a great company Zephyr is, and just how proud each and every one us felt to be a part of that fantastic celebration," said Doug Carpenter, Realtor and one of the contingent organizers.
Zephyr has long been dedicated to giving back to the community. Through commitment of time and service of the real estate agents and matching support from the owners, Zephyr has been the presenting sponsor of Dine Around SF supporting the AIDS Emergency Fund/Breast Cancer Emergency Fund, delivered 15,000 hot meals through Project Open Hand, and been able to support numerous other organizations including The Community Center Project of San Francisco, Larkin Street Youth Center, Rebuilding Together, Habitat for Humanity, San Francisco Child Abuse Prevention Center and many others.
About Zephyr Real Estate
Founded in 1978, Zephyr Real Estate is San Francisco's largest independent real estate firm with $1.1 billion in gross annual sales in 2008 and a current roster of more than 250 full-time agents. Zephyr has seven offices strategically located in San Francisco and serves a large customer base throughout the City. For information, visit www.zephyrsf.com .