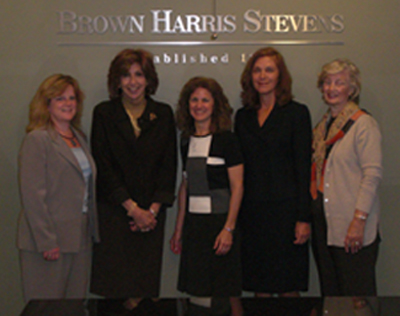 New York, NY, June 24, 2008: Women in Relocation a New York City-based national organization of relocation professionals, held their Annual Spring Event on Wednesday, June 3, 2009. The productive event was hosted by Brown Harris Stevens at their Park Avenue office. Dedicated to providing a forum to meet and network with colleagues, Women in Relocation is committed to making a positive contribution to local real estate communities. This energizing event always serves as a springboard for members to discuss plans and charitable affiliations for the coming year.
This year, Women in Relocation chose to support "The Bridge Fund", www.thebridgefund.org, whose mission is to assist vulnerable, working individuals and families threatened with the loss of their housing. The Bridge Fund works with those who do not qualify for emergency government assistance because they have a limited income. The Bridge Fund provides hope and possibility by offering compassionate listening, information and referrals. Additionally, they offer budget counseling, advocacy, and financial assistance, often in the form of interest-free loans to pay rental or mortgage arrears that threaten eviction or foreclosure. Lisa Buck, Executive Director for "The Bridge Fund in Westchester", was delighted with the support and looks forward to attending all events Women in Relocation in the coming year and developing a relationship with the organization.
Additionally, Women in Relocation will now meet annually in September to conduct a clothing drive for "Dress for Success" whose mission is to promote the economic independence of disadvantaged women by providing professional attire, a network of support and the career development tools to help women thrive in work and in life.
The "Dress for Success" drive is scheduled for Thursday, September 17, 2009 at Brown Harris Stevens flagship office at 445 Park Avenue, New York, NY. Their Annual Holiday Luncheon and Silent Auction will be held on Wednesday, December 2nd, 2009 from 12:00 to 2:00 pm. at Banc Café in New York City. For more information visit their website, www.womeninrelo.com.
Silvana Malpelli, founder of Women in Relocation and Senior Vice President, Director of Relocation and Broker Specialist Services for Brown Harris Stevens said "With the industry gaining momentum with high technology and social networking, now more than ever, we realize how important it is to take the time to meet in person; the personal touch is a big part of building relationships and helping others. I am continually impressed by our members and all that we have been able to accomplish while sharing referrals and developing fruitful alliances.
For more information visit our website www.womeninrelo.com.
About "Women In Relocation"
Women in Relocation is comprised of relocation professionals representing companies from New York, Connecticut and New Jersey. The group was founded in November 2006 by Silvana Malpelli, Senior Vice President, Director of Relocation and Broker Specialist Services for Brown Harris Stevens Residential Sales.