After 50 years as specialists in luxurious real estate, you would expect Rimontgó's innovators to know exactly what interests their clients.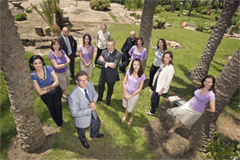 Deciding to put all those years of experience into action, they have launched their new blog, Reality Sense. Accessible via www.realitysense.com or the main website (www.rimontgo.com), Reality Sense covers topics of interest that relate directly to the expectations and aspirations of their discerning clientele.
Currently Reality Sense contains items concerning international travel, equestrianism, Spanish customs, luxury cars, motorsport, sailing and powerboat racing, top restaurateurs, international design, architecture, art and lifestyle issues that specifically relate to a high end customer base. Recent property topics include private libraries, loft living in New York versus an opulent apartment in Valencia and life in Paris.
Visitors to the Rimontgó website are welcome to enter into a debate with the issues raised by the Reality Sense blog items. The site is updated regularly and comments and suggestions are welcomed.
There's no better way to celebrate 50 years in the business than opening another line of communication with a growing customer base.
Happy Birthday, Rimontgó – here's to another 50!