Don Faught of Alain Pinel Realtors (APR) was elected the 2010 California Association of REALTORS® (CAR) Treasurer at the CAR Board of Directors meeting. He will commence his duties as Treasurer in November and will take the official oath of office at the January 2010 business meetings in Palm Desert.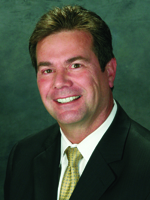 Faught has been a CAR member for over 20 years, and has been a CAR Director since 1997. He has served as Chair on many CAR committees including the Federal Issues Committee, and was the 2008 Vice-Chair of the Strategic Planning and Finance Committee. Faught has also been a National Association of REALTORS® (NAR) Director since 2002.
"With 11 years experience in Strategic Planning, Budget and Finance at my local association I know how to plan, finance and build a vision for the future," Faught said. "The next few years present unprecedented challenges for our members, and we need to give them the information, education and technology they need to successfully compete in the new real estate market."
Faught, Vice-President and Office Managing Broker for APR, is one of the leading real estate professionals in the San Francisco Bay Area. He is very involved in both the local and state level of the Realtor Associations, helping to ensure that Alain Pinel Realtors remains at the forefront as one of the nation's largest real estate firms.
For more information about Alain Pinel Realtors, please visit www.apr.com.
About Alain Pinel Realtors
Alain Pinel Realtors (APR) is the largest privately-owned and independent residential real estate company in California. APR was ranked the eighth largest real estate firm in the United States based on its sales volume in 2008, and has been consistently ranked in the Top 10 firms in the country. The firm has over 1,300 agents in its 30 offices throughout the Bay Area. APR was founded in 1990 by Chairman and CEO Paul Hulme, and is based in Saratoga, Calif. For more information about APR, please visit our website at apr.com.