HOLMDEL, NJ, June 16, 2009 – Jennifer Lynch has joined Gloria Nilson GMAC Real Estate of Holmdel as a sales associate. With 10 years of Real Estate experience, Lynch combines her professional background with a commitment to helping her customers achieve all of their real estate goals.
"Experience coupled with a positive 'can do' attitude will get you to the closing table in this difficult economic period. Gloria Nilson GMAC Real Estate has the local and global resources to assist me with my clients!" says Lynch.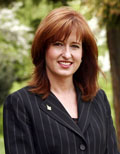 Lynch has worked as a full time Realtor® Associate in Monmouth County for six years. She specializes in the marketing and selling of homes and recently added short sales to her list of real estate experience. Before moving to New Jersey she worked for one of the largest property management firms in the country. As a Senior Property Manager, she managed residential and commercial hi-rises in Washington D.C., McLean, VA and Valley Forge, PA. Lynch is a committee member for Nut Swamp Elementary PTA, belongs to the Northern Monmouth Chamber of Commerce and is a committee member for the Monmouth Association of Realtors®.
"Jennifer is very tenacious and is not afraid to tackle even the most difficult of situations. She is truly committed to her clients and goes above and beyond to assist them," says Dana D'Agostino-Ryser, Branch Executive of the Holmdel office of Gloria Nilson GMAC Real Estate.
The sales associates of Gloria Nilson GMAC Real Estate provide Premier Service®, an innovative system that puts customer service guarantees in writing and invites consumers to evaluate their experiences afterward. Premier Service® promises consumers consistent and measurable levels of service rated by an independent survey.
Lynch serves all of Monmouth County and its surrounding areas and specializes in Middletown, Holmdel and Colts Neck. She lives in the Middletown area with her husband and son.
The Holmdel office of Gloria Nilson GMAC Real Estate is located at 31 West Main Street, Holmdel, NJ 07733. To reach Jennifer Lynch directly, call 732-946-3200 ext. 166 or email jlynch@gnrgmac.com. For information about properties available, visit www.glorianilson.com.
About Gloria Nilson GMAC Real Estate
Gloria Nilson GMAC Real Estate has 16 offices and more than 600 sales associates throughout New Jersey. Owned by SCS Realty Investment Group, LLC, led by Dick Schlott, the company is a franchise of GMAC Home Services, which is owned by Brookfield RPS, a division of Brookfield Asset Management Inc. BRPS has one of the largest relocation companies in the world and its Realtor® network is nearly 30,000 strong, based out of 1,500 locations across North America.