MA - (MAY 2009) — Chris Raveis, executive vice president and managing partner of William Raveis Real Estate, Mortgage & Insurance, LLC, Massachusetts, is pleased to announce the promotion of Cohasset resident Alain Pinel to Senior Vice President and General Sales Manager of the 18 Massachusetts sales offices.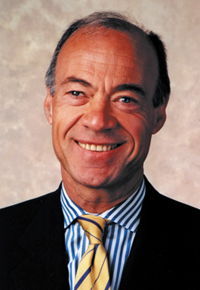 "Since Alain's arrival to the company one year ago," commented Mr. Raveis, "he has demonstrated his value in supporting our Massachusetts team. He is a talented and accomplished individual who exhibits a level of experience and expertise that I respect. His knowledge and integrity will play a major role in the continuation of our growth in the state in the years to come. We are quite fortunate to have him in our family of companies," he added.
In his new position, Alain will be directly responsible for all sales offices in Massachusetts as well as for growing the William Raveis network of offices. A real estate veteran for 32 years, Mr. Pinel is eager to commence his new role at William Raveis. "I have a passion for this business," he said, "and was fortunate to enjoy it at the highest level for more than 30 years in California, in Europe and now here. So I feel quite honored to be associated with a company whose vision, energy and overall leadership are so inspiring. Working with such an amazing and forward-thinking team as those presently in the William Raveis Company is delightful and only encourages me to be more diligent in my vision to become the dominant force in Massachusetts."
"As a real estate entrepreneur," Raveis continued, "Alain has founded a number of successful business ventures, including Alain Pinel Realtors of Silicon Valley, CA, one of the top 10 largest real estate firms nationally which operates in affluent markets of the California Penninsula and South Bay area. Most recently, he has founded Imminence, one of Europe's first regional MLS systems which has changed the real estate industry in France and is now the model utilized by French Realtors."
Prior to his five years at Imminence, Mr. Pinel held the position of Senior Vice President of Coldwell Banker where he was in charge of the "San Francisco, Peninsula, and Silicon Valley" Region comprised, on average, of 24 offices and over 1,500 sales associates. During his tenure as Executive Vice President and General Manager of Fox and Carskadon, then thelargest residential real estate organization in the California Bay area, the company tripled its volume of sales and emerged as one of the top residential real estate firms in the country.
Mr. Pinel is the former Vice President of FIABCI in Northern California; former Vice President of The French-American Chamber of Commerce in Northern California and is currently serving a 3 year term as member of the Cohasset Economic Development Committee.
Prior to his career in real estate, he was Domestic and Foreign Politics Editor for some of the largest newspapers in France as well as Editor-in-Chief of L'OUEST INDUSTRIEL, a monthly business magazine.
Mr. Pinel has two children and lives in Cohasset with his wife.
Since first entering the Massachusetts marketplace in 2003, William Raveis has experienced phenomenal growth. In 2007, the company opened three new offices in Marblehead, Orleans and Osterville, with statewide sales volume jumping 48% from the previous year. In 2008, the company launched four additional offices in Falmouth, Scituate, Marblehead and Hingham. In 2009, the company has already added 3 new offices in Chatham, Eastham and Orleans making William Raveis Real Estate one of the largest independent real estate firms in Massachusetts. Plans for the balance of 2009 include the launching of more offices in Massachusetts.
William Raveis Real Estate, Mortgage & Insurance is one of the top companies in the nation. It is rated as the #1 family-owned real estate firm in New England, the #2 family-owned real estate company in the United States and #12 out of 100,000 real estate firms nationwide. The innovative company is nationally recognized as an industry leader and is dedicated to providing an unparalleled real estate experience to its customers. Since 1974, the firm's 2,100 highly trained sales professionals have been dedicated to strengthening their position as industry leaders in technology, marketing and REALTOR® education. The company has 63 offices, including two affiliates, in Connecticut, Massachusetts, New York and Rhode Island. Future plans entail expansion into Vermont, New Hampshire and Maine